Penman says Jim's Book was «quite a revelation» even to him, «there were lots of things I didn't know», he said.
He launched Jim's Mowing in 1989 and signed his first franchise after managing to uncover the franchise system of rival mowing franchise VIP.
Jim's Book describes Penman as «a powerful man with tight control over his franchise system».
He is described as having a reputation for being a firer, with many franchisors laughing that «it's always a revolving door at national office».
And yet Penman has multiple staff members who have worked for him for five to ten years, and some who have been there for over 20.
One staff member describes Penman's hardline attitude in the book.
When it comes to business: he's ruthless. If you're not contributing, you're gone

Staff member
«When it comes to business: he's ruthless,» they said. «If you're not contributing, you're gone. Regardless of your situation. I've seen him fire a guy who was a week from his first baby.»
Penman is unapologetic.
«I also fired my sister and she has never spoken to me since,» he told the Sydney Morning Herald and The Age ahead of the book's publication. «I have a very single-minded focus, more than 4000 families depend on what we do and ultimately they are what counts.»
Jim's Book describes Penman as changing his mind often, making decisions very quickly and getting angry in an instant.
«Of the seven sins, wrath is definitely my downfall,» he says.
While Penman is not someone to be crossed lightly, Jim's Book notes the franchise has avoided litigation «better than most franchise systems«.
«If a franchisee has a genuine problem it will get fixed and that is why franchisees almost never go to court,» Penman says.
«I think in the whole history of Jim's, in over 4000 franchisees and 30 years we have been to court three times. It is almost unprecedented because I take a very tough attitude.»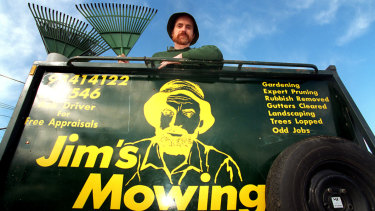 Despite Penman's success, he lives a simple lifestyle and puts his money into finding a cure for addiction and depression.
«I drive a seven year old Mitsubishi Outlander which is probably worth $10,000,» he says. «I never take holidays, if I eat out I go and buy pizza or go to the local Indian restaurant. We have someone clean the house once a week but apart from that we look after ourselves.»
Penman says he still does all his own washing up at home after trying unsuccessfully to get Jim's Cleaning to clean his house only to find there was no-one available in the area so he had to to through Gumtree to get some help once a week.
Loading
This, he says, is the main problem with Jim's Group with client demand growing faster than franchise numbers.
In 2018 the Jim's Group turned down 175,000 jobs because there were not enough franchisees to do the work.
Jim's Book also explores Penman's eventful personal life, over the years he has been married four times and has eleven children.
«It definitely took me a while to get it right,» he says. «I am obviously a difficult person to live with, there has to be some reason women can't stand me.»
However Penman has been married to his current wife for 18 years.
«My current wife, we absolutely adore each other, it has been like an 18-year honeymoon,» he says.
Jim's Book by Catherine Moolenschot is published by Wiley and released on Friday.
Cara is the small business editor for The Age and The Sydney Morning Herald based in Melbourne