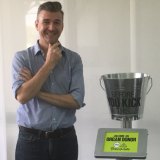 Last week the charity Donor Mate launched the apparently risky 'kick the bucket' campaign with 'Touch and Go' kiosks using an iPad and a bucket located at universities like UWA.
But for the OTA it's the bucket that is deemed too risky and potentially offensive to donor families, describing Donor Mate's campaign as a casual approach.
Unfortunately that cautious decision does nothing to arrest the group of young people unaware of the register, which is missing their signatures from the list.
What's casual about it?
Sure it's bold – but less than one in 10 young people are on the register and a few shock marketing tactics particularly aimed at this group could help address the situation, especially when looking at the bigger picture less than half of all Australians are signed up as donors.
And if more people don't sign up as donors, it has been recommended by a parliamentary inquiry that the Federal Government consider changing the law from 'opt-in' to 'opt-out' just like Ireland and Wales did.
Think of the effectiveness of the in-your-face campaigns on the front of a carton of cigarettes, with pictures of rotting teeth or feet with gangrene hammering home the anti-smoking message.
So let's give the bucket campaign a go.
What is bizarre is the Organ and Tissue Authority backed and endorsed a Donor Mate bus stop campaign in August, which clearly is more explicit than 'kicking the bucket'.
So why not be bold and have a few campaigns that are actually noticed?
Perhaps the Organ and Tissues Authority has been scared off by the Dying to Live documentary ad campaign released late last year, which was labelled offensive by many as it showed Jesus dying on the cross having conversations about donating organs.
But isn't it better that the community is talking rather than silencing the organ donation conversation?
Keep the bucket – before you kick it – have a think, and make a choice.
Oliver Peterson is the presenter of 6PR's Perth Live radio show.
Peterson hosts 6PR's Perth Live show and writes for WAtoday