When I finally reached him Monday evening, his husky voice was ragged from all the talking.
Loading
He and his husband, Adam Porter-Smith, were about to leave Los Angeles for Bora Bora, where they would join a South Pacific cruise that was already underway. «Sounds glamorous, doesn't it?» he said with a chuckle. «I'll be performing.»
In 2013, Porter won a Tony for his portrayal of the drag queen Lola in the musical Kinky Boots. He's getting ready to shoot the second season of Ryan Murphy's FX show, Pose, about the demimonde of competitive drag queens in 1980s New York as the AIDS crisis was peaking.
He plays Pray Tell, the hilariously bitchy ballroom emcee and volcano of compliments and insults as the queens strut their (usually homemade) stuff: «I don't know of a princess or a queen who gets their clothes from… Casual Corner!»
His work in «Pose» has put him on the awards shows red carpets this year. His first attention-grabbing outfit – an embroidered suit and matching full-length cape with hot pink lining – was a step toward the Oscars night ball gown.
Loading
«I have subjugated this instinct in myself for years,» he said. «It's the very thing I have run from my whole life. When you are black and gay and you grow up in the church in the African American culture, it's like your masculinity is in question at every turn.
«But what does that mean, to be masculine? To be strong and powerful? Women wear pants all the time, and nobody bats an eye, but a man puts on a dress and that's disgusting?»
Just like the fashion runways of the world, the Oscars red carpet is a fashion fantasy land. For the fantasy to work, everyone must buy in. But every once in a while, someone refuses to play along. Or bends the rules. A Frances McDormand, say, whose sack-like dresses, Birkenstocks and bare face constitute an aggressive rejection of Hollywood's artifice (and a metaphor for her career).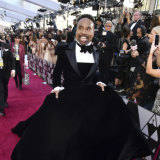 Or a Billy Porter, who offers a different kind of truth; that men can be comfortable outside the «masculine» norms that guide most men's runway choices.
That Jason Momoa can wear a pale pink scrunchie on his wrist and be considered transgressive is all you need to know about the narrow range of acceptable male fashion expression.
«It's truly about authenticity,» Porter told me. «It's easy to be who you are when who you are is popular. How can you be authentic when everything you are is reviled?»
He's not wrong. Among the first nasty reactions to his gown was the insufferable Piers Morgan, who tweeted, «Am I allowed to say this looks absolutely ridiculous? #BillyPorter.»
Loading
This is the more benign expression of a serious problem. Despite all the recent gains for LGBTQ civil rights, there's a relentless pushback from the Christian right, and a willingness on the part of the Trump administration to shore up a shrinking base by attempting to reverse progress.
Porter's outfit was an unflinching refutation of that, and reminded me of the old gay-rights slogan: We're here, we're queer, get used to it.
Porter's gown was created by the designer Christian Siriano, a Project Runway winner who went on to rescue Leslie Jones, who tweeted that no one wanted to dress her for the premiere of Ghostbusters in 2016.
Siriano stepped forward and created an off-shoulder, body skimming red gown that became an instant bestseller for him. Since then, he's become something of a patron saint to the Not-Size-Zero crowd.
When Porter asked him to make a gown, Siriano did not hesitate. The first time he tried it on, Porter told Vogue, «I felt alive. I felt free. And open, and radiant. And beautiful! Which has not always been the case for me. I haven't always felt so good about myself. It really is astonishing how much of an effect clothes have on your spirit.»
On Oscar night, he told me, the feeling was even more intense. «I felt like I can float on air,» he said. «I can conquer the world.»
And so he did.
Los Angeles Times