There's something about Dancing with the Stars. There wasn't always: back in the days of its wildest, most unstoppable popularity, it seemed to this humble observer to be the most banal of programs, an insubstantial confection of nothingness that inexplicably seemed to take itself seriously.
Maybe that's what's caught my eye with the series' return to the Ten Network: the impression that it's a lot less serious this time around. It's all in the eye of the beholder, but the great appeal of new hosts Grant Denyer and Amanda Keller is that they don't give the impression they believe their job is of more importance than it objectively is. This is a quality they do not share with, for example, Daryl Somers. Some people might prefer their celebrity ballroom dancing contests to be treated with deadly seriousness: personally I find the best bits of DWTS are the bits where it's clear nobody actually cares that much, and the worst bits are the bits where contestants seem to be genuinely worried that their dancing might not be up to scratch. This is why in Monday's episode Cassandra Thorburn's neurotic fretting about criticism of her performance grated: Cass, this is Dancing with the Stars; there is literally nothing at stake here.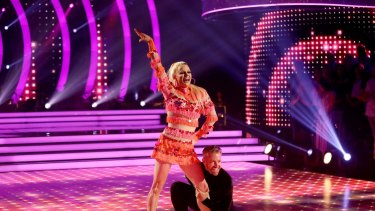 This doesn't mean we can't join in with the theatre of it all: it's perfectly understandable that we howl with rage at our fellow viewers who this week somehow decided they'd rather see more of Cass Thorburn than the marvellous Miguel Maestre. But that's a judgment on what we'd be most entertained by – and Miguel is 10 times the entertainer Thorburn will ever be – not on who's the best dancer. I have no idea who the best dancer is. I don't think any of us do. We love to see them huffing and puffing and sweating and pulling their hamstrings out there, but be honest: we don't really have a clue what's going on. The judges seem to, but in a way their greater knowledge just makes them seem like spoilsports.
Of course Craig Revel Horwood is only following orders when he throws himself so fully into the role of pompous ass, sniping bitchily about people's knees and throwing around weird dancer jargon that nobody understands – but it almost seems against the spirit of the show to even have a mean judge. Who tunes into DWTS to see people taken down a peg? Maybe Horwood needs to ratchet up the pantomime villain a few more notches, so he no longer seems mean, just camp. It is, after all, a very camp show. His fellow judges seem to be more attuned to the general mood, with Sharna Burgess offering myriad variations on «good on you for having a go» and Irish sprite Tristan MacManus simply finding everything he's ever seen to be utterly marvellous.