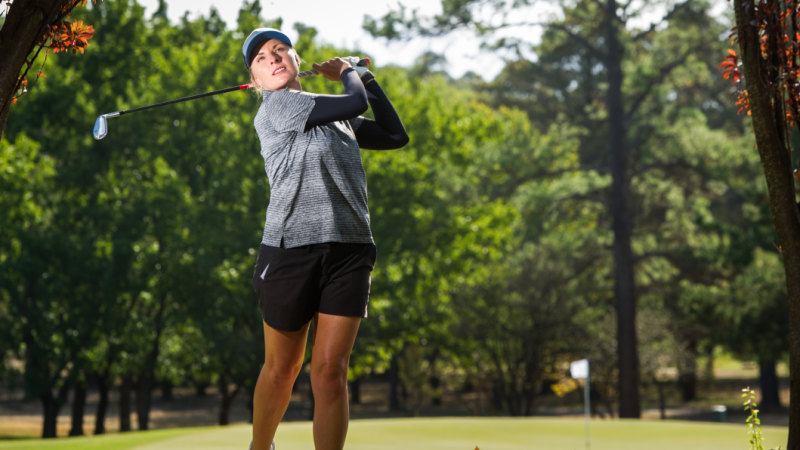 Loading
Kemp felt so close but so far. She sat and wondered how she could work her way out of this frustrating lull before a friend of a friend put her in touch with a sports psychologist.
Towards the end of 2017 she reached out, and little over one year later she finds herself locking up playing rights on the LPGA Tour following stellar finishes at the Vic Open and Australian Women's Open.
Now the world No. 147 will converge on Royal Canberra Golf Club with an eye on the $150,000 Canberra Classic having opened her campaign with a light-hearted Nation versus Nation shootout tournament on Wednesday.
The real deal starts on Friday, and Kemp is in with a genuine shake given her brilliant start to the year — she is sitting on top of the 2018-19 ALPG Order of Merit rankings.
«It's been the best start to any year I've had in a really long time, so confidence is nice and high. Hopefully I can keep it up for the next couple of weeks,» Kemp said.
«I'd lost my [LPGA] status [in 2017] but I went to Europe and took some time off and really recharged the batteries. I didn't grind it out, but I just played the schedule and the Ladies European Tour.
«I played better, I had some good finishes early on in the year. I almost won on the Ladies European Tour early last year and it just slowly came back.
«The start this year, I'm sure a lot of it is the hard work happening over the past few months rather than just recently something clicking. I'd say it's been over a year's worth of hard work.
Loading
«It's so nice because it's a real grind sometimes. It's not going to go your way all the time, it's a really patient sport. Some weeks you're not going to have it, some weeks you are.
«I've had my fair share of down days so it's been nice to start the year like this and really just have the pressure of for at least a couple more years of status in America which is something I've never been able to say.»
Three months ago Kemp basically had no status on the American tour. Now she is rearranging her schedule to go back to the United States and play on the biggest tour in the world.
«It's all kind of a dream at the moment.»
Caden Helmers is a sports reporter for The Canberra Times