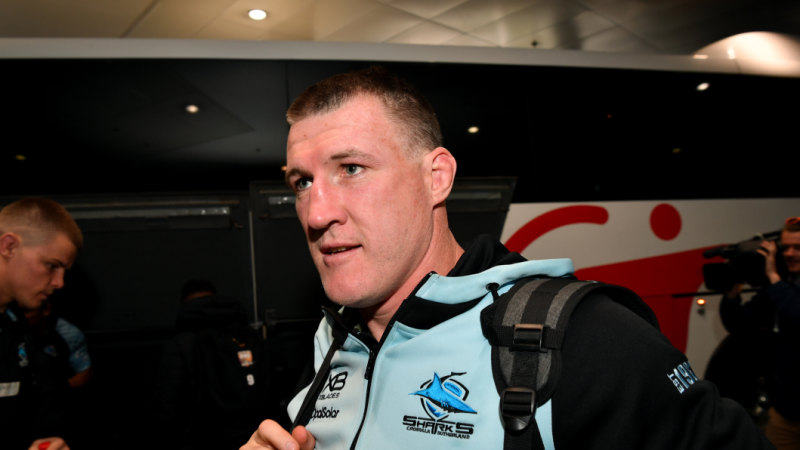 Pro5per Investments is owned and controlled by director Graeme Holm and his partner Rebecca Walker, who also run «wealth creation» business Infinity Investments Group Australia. Infinity was a Sharks jersey sponsor for 12 months.
Records show Gallen paid $13,750 for a half-share in a block of land on Kenny Drive at West Tamworth belonging to Pro5per Investments in the months before Infinity's sponsorship deal with the Sharks was announced in May 2016.
While Infinity was a Sharks back of jersey sponsor, a development application was approved for a house worth around $185,000 on the block — increasing the potential value of the investment.
Infinity cut ties with the Sharks in May 2017. Mr Gallen sold his share in the West Tamworth property back to Pro5per Investments for $69,250 in July 2017.
Gallen's manager David Riolo would neither comment on the specifics of the property dealings nor whether they were disclosed to club officials. But he strenuously denied any wrongdoing on behalf of his client.
"Paul's business is Paul's business," he said. "There's never been any link to salary cap breaches with Paul or Infinity."
The NRL is due to hand down the findings of a major salary cap probe into the Sharks on Friday. It's been reported the club is bracing for heavy penalties after the NRL's forensic audit revealed more than the single salary cap anomaly that was self reported by the club last August.
A spokesperson for the NRL's integrity unit said: "The NRL is aware that Mr Gallen has an association with Infinity".
Gallen has appeared in online testimonials for Infinity Group, saying he had «immense faith» in the company.
He still owns a second block of land on Dewhurst Street in West Tamworth that he purchased with Pro5per Investments in December 2015.
When contacted by the Herald on Wednesday, Mr Russell said he was unaware of the property dealings and could not confirm whether they were disclosed to, or approved by, Cronulla officials.
"But what I would say is what Paul or any player does with their own money from an investment point of view is really up to them," he said.
"Any player can invest their money the way they want to… I encourage all players to invest it wisely. Property is good for them to secure their future."
The NRL's website says: "There are provisions for club sponsors to enter into agreements with elite players under the Marquee Player Agreement allowance. All third party agreements must be registered and approved beforehand."
Gallen lives within a few hundred metres of Mr Holm and Ms Walker at Burraneer near Cronulla, both families in homes boasting views over Port Hacking.
Their relationship appears to date back until at least November 2015, when Infinity sponsored Gallen's boxing bout with fellow rugby league star Bodene Thompson.
"They'll be ringside in my corner supporting," Gallen wrote on social media at the time.
Infinity kicked off the 2016 season as a sponsor of the Eels. It made what was reported to be the fastest major sponsorship switch in NRL history when it swapped its support to the Sharks months later over a salary cap scandal.
Gallen's manager confirmed that his client was responsible for introducing Infinity to his Sharks.
«Great to have Infinity's support at the Sharks now,» Gallen wrote on his Instagram profile at the time the sponsorship deal was signed. «Graeme, Bec & Matt have been helping me personally for some time and it's great to now have them supporting our club.»
A year later Infinity announced it was withdrawing its sponsorship of both the Roosters and the Sharks in the wake of their respective cocaine scandals.
Mr Holm declined to comment.
Carrie Fellner is an investigative reporter for The Sydney Morning Herald.