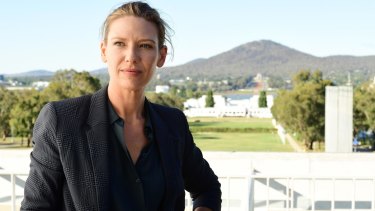 In the first season of Secret City Torv's Harriet Dunkley was a political journalist for a fictional daily newspaper working out of the Parliament House bureau, pursuing threads linked to abuses of national security that involved data smuggled out of China and the death of Harriet's former husband, transgender woman and Australian Signals Directorate analyst Kim Gordon (Damon Herriman).
Caught between the intelligence services and the likes of Jacki Weaver's Catriona Bailey, a ruthless attorney-general looking to use a crisis to amplify her hold on the reins of power, Harriet found some answers but no satisfaction. The first season ended with her being sent to jail, and the second begins two years later, with a recently released Harriet on the outside of the Canberra system as an unemployed «ex-con».
«She doesn't have a place in that world any more and it's important to do that so you're not doing a disservice to the audience by telling them the same story again. It wouldn't work for her to be back where she was at the start of the show,» Torv says.
«It's a bigger story than Harriet this season and you've got a lot more pieces in play. In the first season we were in Harriet's pocket, but this time you're following a couple of different people and also getting a sense of how a government operates,» adds Torv. «It's the mark of a really good show when you can get into the minutiae but also pull out and look at the broad strokes.»
The new season's strands introduce Don Hany as an embattled prime minister, Rob Collins as a soldier whose service straddles Afghanistan and Australia, and Danielle Cormack as an independent MP from Adelaide whose electorate has been the scene of a devastating explosion and who brings Harriet in from the cold as her media adviser.
It has a thriller's pacing and plot points that sit just a few uncomfortable paces past recent real life activity, such as the recent cyber security breach at Parliament House. Directors Tony Krawitz and Daniel Nettheim shot their three-episode stints in single blocks, meaning the cast were constantly working to distinguish what their characters knew and where they were emotionally placed over the six-episode arc.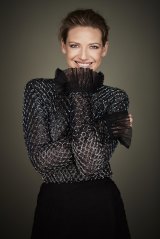 «You'd be asking yourself, 'What do I know? What does the audience know?' Torv says. «It's challenging in a good way.»
When Torv, who was born in Melbourne and grew up on the Gold Coast, graduated from the National Institute for Dramatic Arts in 2001 she earnt her spurs working on the stage with the Bell Shakespeare Company and on local network television series such as The Young Lions and The Secret Life of Us. That television era and the current one are vastly different.
«You can't compare television series where the showrunners and writers used to have to quickly break down and prepare 22 episodes in succession to a room that now sits down and fine-tunes an episode,» Torv says. «You can't compare being an actor on a show where you just had to try and keep up to now discussing exactly what we're going to shoot and why. That's not just in Australia, that's everywhere: the quality of what's on our screens is just better and better.»
Television's steady transformation has gone hand in hand with revealing Torv's artistry on the screen. Her characters have a roiling energy that's held just beneath the composed surface, driving them on even as they weigh their choices with an unvarnished gaze. It began with Olivia Dunham, her FBI agent in Fringe, was apparent in Secret City journalist Harriet Dunkley, and is further explored by Wendy Carr, the psychology professor helping create criminal profiling in Mindhunter, which recently filmed a second season.
«I feel like Harriet is a grown-up, non-network version of Olivia, but she chases a clue the way Olivia would chase a clue,» Torv says. «Harriet was one of the first things I did after Olivia and I had to remind myself that she's a journalist and not a cop. Wendy, in a very different way to Harriet, wants to know. Harriet doesn't have to save the world, she just has to know. And that's enough.»
WHAT Secret City: Under the Eagle
WHEN Fox Showcase, Monday, 8.30pm
Craig Mathieson has been the film critic for The Sunday Age since March 2012, having previously held the same position for Rolling Stone and The Bulletin. The former magazine editor writes widely on film, music and television, and is still able to quote sizeable chunks of the dialogue from Michael Mann's Heat.
Most Viewed in Entertainment
Loading