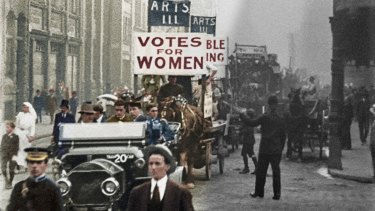 Colour is instantly more viscerally human – and apparently has a greater impact on our visual memory.
The work of Brazilian photographic colourist Marina Amaral gained traction when she began posting her work on Twitter. An early photo she posted of Lewis Powell, who attempted to assassinate the the US Secretary of State in 1865, appealed to Twitter users who likely would have swiped past a 19th century photo; it's almost certain few people would have branded him a «hipster assassin» and discussed his good looks at length. More recently, Amaral has shared her colourised prisoner photos from Auschwitz for the digital Faces of Auschwitz project, and the impact has been remarkable.
Jackson wanted to pull the soldiers «into the modern world» so they could regain their humanity rather than be seen as «Charlie Chaplin-type figures in vintage archive film».
Transforming the past into colour somehow makes the images less abstract, giving us a chance, the producers of Australia In Colour say, to see history «from a fresh perspective».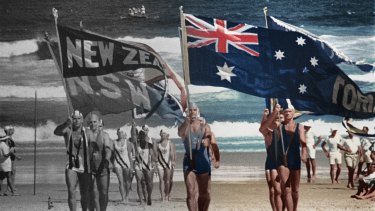 Narrated by Hugo Weaving, the footage in the four-part series is drawn from (and made in association with) the National Film and Sound Archive, and aims to explore how Australia came to be the nation it is today, from this newly humanised perspective.
Let's hope that colourising the more sobering images from our nation's past – and there are many in this series – does go some way to creating a more empathetic view of the past.
The first episode begins with Australia's oldest surviving footage, from 1897, capturing people at Sydney's Prince Alfred Park, and takes us through to the end of the 1920s, each sequence having been restored and meticulously researched, including the historical accuracy of the colours.
In this first instalment, the colourisation is certainly engaging, although it's the juxtapositions that stay in the mind after watching the footage, by turns extraordinary and shocking. Even before the 1920s, Australia had distinguished itself on many admirable fronts, from the work of Antarctic explorer Douglas Mawson, to women being given the vote and being the first in the world to be eligible to stand for parliament. There's footage here of these achievements and more – but it's the freshly colourised images of Indigenous men in chains, the Indigenous children taken from their families and moved to isolated missions to be trained as domestic help, and the excerpts from the public education films about the White Australia Policy that should really give pause for some «fresh perspective» to Australia's past.
If adding colour to the past evokes a greater empathy for the subjects, perhaps Australia In Colour should be added to the school curriculum.
Australia in Colour is on SBS, Wednesday, 8.35pm.