Rio's underlying earnings before interest, tax, depreciation and amortisation (EBITDA) slipped from $US18.6 billion to a still-solid $US18.1 billion.
Like BHP, it wasn't helped by the price environment, which was flat. EBITDA from its core iron ore business, where the average realised price was, at $US62.50 a tonne, 4 per cent lower than in 2017. That cost its $US458 million of EBITDA.
With iron ore now trading around $US83 a tonne, and a 10 per cent movement in the price equating to a $US1.6 billion increase in EBITDA, there is a surge in profitability ahead if the prices hold.
That is, of course, a big «if,'» given the issues China is grappling with and the potential for the trade conflict with the US, should it flare again, to slow its economic growth rate further. At this point it appears Donald Trump might settle for something less than his hawkish advisers were seeking, with commonsense prevailing and the impact on China less punitive than it might otherwise have been.
With global growth slowing, the potential for Trump to open a new front in Europe for his trade wars and most developed and developing economies over-leveraged, there is still considerable risk in the environment in which Rio and its peers are operating. Its balance sheet conservatism and its positioning at the low end of the industry's cost curves provides some insurance against something unpleasant developing.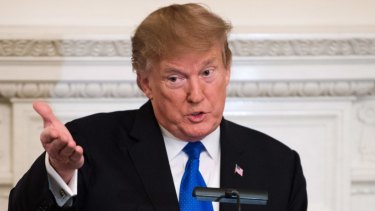 Rio's other key commodities, aluminium and bauxite, did experience strong price increases but also suffered input cost increases that reduced their contribution (at the EBITDA level) to $US3.1 billion, 10 per cent lower than in 2017. Higher volumes and prices in copper boosted the copper and diamond division contribution 46 per cent, to $US2.8 billion.
On productivity, Rio gained $US300 million but lost the same amount because of «cost headwinds». After ending the year with a run-rate of $US400 million it is, however, targeting $US600 million of additional gains in 2019 and a run-rate of $US1.5 billion by 2021.
Having invested $US5.4 billion in its operations last year it plans to remain disciplined in its capital expenditures, which it expects to be around $US6.5 billion a year for the next two years.
Like BHP, it is the discipline with which Rio has allocated its capital between its balance sheet, operations and shareholders that has been the feature of its performance in recent years. It has adopted the new industry mantra of «value over volume» and delivered on that promise even while cautiously investing in future growth. Shareholders will be satisfied.