The Howard Street properties, also zoned Commercial 2, are on 606 sq m of land. They're on the eastern side of Church street next to an existing office building at No.7-9 and opposite apartment towers overlooking the Yarra.
Teska Carson agent Matthew Feld, with Adrian Boutsakis and Michael Taylor, is handling both expressions of interest campaigns which are pitched firmly at office builders.
Mr Feld said Cremorne development sites have been selling for more than $10,000 a sq m for the past year with some properties reaching as high as $14,000 a sq m.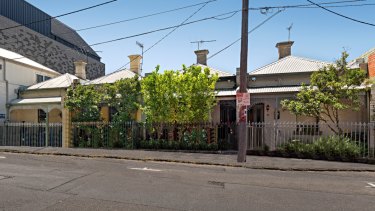 «We expect strong enquiry from developers, investors and owner-occupiers looking to get into a very sought after market. Cremorne has seen an influx of major IT and creative tenants and it's been dubbed Victoria's Silicon Valley,» Mr Feld said.
The city-fringe office market is tight with the latest Property Council of Australia figures showing a 3.2 per cent vacancy rate.
Sites once tipped for residential development are now shifting to office, even in salubrious East Melbourne.
The Pask Group has plans for a strata office building at its newly acquired 1000 sq m site at 204-206 Albert Street, which is just around the corner from Time and Place's 11 storey office project Victoria Place.
The appetite for office investment has pundits watching for the result at Brendan Sullivan's office at 122-130 Wellington Parade. Agent CBRE closes expressions of interest for the seven-level office building next Friday.
It is on a large 1141 sq m landholding overlooking the MCG and Botanic Gardens. It returns $1.71 million a year in income and is expected to fetch in the mid $30 million range.
Straight eight
Doncaster developer DCF is selling a block of eight fully-leased townhouses at 14-20 Roden Street in West Melbourne.
DCF, owned by Zhiwei Huang and Yufeng Li finished the townhouses a couple of years ago and had planned to hold them as a passive income stream.
Colliers International agent Dave Walker, who is handling the expressions of interest campaign with Daniel Woman and Oliver Hay said "twelve to 18 months later this product they're holding is flavour of the month."
DCF, who is more active in the eastern suburbs, bought the site in 2014 for $2.6 million. The four-level project is expected to sell for more than $9 million with build-to-rent investors at the top of the list of bidders.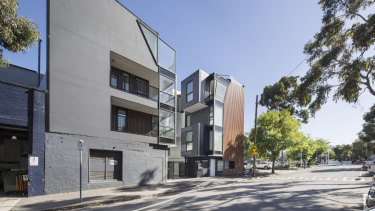 It's not the only action in West Melbourne. Nicole Chow's United Asia Group is flipping the Flagstaff City Inn site at 45-55 Dudley Street through Savills after paying $20 million two years ago and 91-99 Dudley Street is also back on the market.
Bay beauty
Priceline is poised to move into Port Melbourne's Bay Street, a strip that already has three chemists.
But the pharmaceutical and beauty behemoth has a twist to its shelves of shampoos and moisturisers. Owner, Australian Pharmaceutical Industries, bought Cleanskincare Clinics last year, an outfit handy with the needle and laser.
So Priceline is taking two shops across 400 sq m at 180 Bay Street, next door to a Witchery outlet and below Melbourne Medical Dental. A Priceline Pharmacy store will occupy one space and a Clearskincare clinic, its pair.
Priceline has 475 stores around Australia, many of which are found in shopping centres rather than shopping strips.
CBRE agent Zelman Ainsworth, who negotiated the deal with Tan Thach, said major retail chains are starting to move back into the strips.
"The cycle is changing," Mr Ainsworth said. "The convenience of being able to go down the street is really attractive. Retailers see there is more productivity for their business in urban areas with strong residential growth."
Sailing event
Youth homelessness charity, the Property Industry Foundation, held its annual Sailing Challenge on Friday at Royal Brighton Yacht Club.
Sponsored by property giant Brookfield, the event at the elite club also included an opportunity for five at-risk and homeless young people, selected through the Lighthouse Foundation and Open Family Australia, to mess about on boats.
The event's patron John Bertrand AO said "during the day we introduce kids from a wide variety of tough backgrounds to the wonders of sailing."
PIF is aiming to build 125 bedrooms nationally by 2021. It has already built two houses, each with six bedrooms, in Coburg and Bonbeach.
The foundation is also involved in the redevelopment of an $8 million city-based crisis accommodation and support centre, Frontyard, for Melbourne City Mission.
Built is the principal contractor on the 19 King Street project which is due for completion in April. The pro-bono consultant team includes Ashurst, Case Meallin, Slattery, Fender Katsalidis, NDY, Wood & Grieve Engineers, Hendry Group, Equitable Access Solutions, Irwinconsult, and Urbis. Suppliers who donated materials include Harvey Norman, Highbury Plumbing, Hayden's Ceiling and Partitions, Signorino Tiles and Taubmans Paint.
Groceries galore
The East Ringwood IGA is up for auction after 42 years in the hands of one family. The supermarket at 82-90 Railway Avenue is in a busy local strip on a large 2000 sq m corner site.
It's offered with a brand new 10 year lease to Paul's Supa IGA, earning $400,00 a year. It's expected to sell in the sub-$10 million range when it goes to auction on March 28.
CBRE agents Joseph Du Rieu, Leon Ma and Kevin Tong are handling the international campaign.
But wait there's more. The Emerald IGA, which sits adjacent the Puffing Billy railway line is also for sale. The Ritchies IGA at 342 Belgrave-Gembrook Road, is on a 4776 sq m site.
It earns $328,784 a year and is expected to sell for around $5 million. It goes to auction on Wednesday through Gorman Commercial.
And wait there's even more! Dockendorff's in Brighton, currently an IGA, but a grocery store since 1939, also goes to auction on Wednesday through Nichols Crowder.
The supermarket at 10-12 Cochrane Street is on a 1700 sq m land holding and its lease includes a demolition clause. Given the location, it's expected to fetch more than $10 million and fall to residential developers.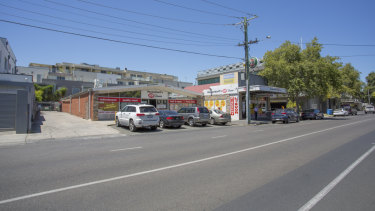 Nicole Lindsay is a property reporter at The Age.