Unsurprisingly, the Hatton Garden job has already been the subject of another film and a television series. It's the kind of real-life story that seems to have grown out of British movie mythology; Vanity Fair dubbed them «The Over-the-Hill Mob». «It's an easy crime to like, isn't it?» says Jim Broadbent. He plays Terry Nelson, whose hard-man demeanour is somewhat undercut by the fact he has to go to robberies with his insulin and get one of his fellow villains to stick a needle in his sagging behind. «Nobody gets hurt. Old guys. It reminds you of crime the way it used to be in your childhood.»
Half of them were eventually picked up at their local. The only one who got away — at the time, anyway — was the smart electrician who got them past the alarms. «I like to think — maybe because I'm playing him — he's on a boat somewhere, on a nice yacht,» says Charlie Cox, the youngest person in the cast at 36. «Or do I? You can't help it, there is a little part of you that can't help but back them.» There is a Robin Hood element to it, says Paul Whitehouse. «Even if it is redistribution from the few to another few.» Whitehouse, famous from TV sketch comedy, is the joker in this pack. Is he pinching himself, finding himself in this fine thespian company? «I am not pinching myself at all. Because every day I wake up and look in the mirror and say 'you are Batman's butler',» he says, perfectly mimicking Michael Caine's much-imitated voice. «Whatever Batman wants for his tea, he bleeding well gets.»
They're gentle souls, everyone is so gentle and nice it's lovely coming to work.
We're on set at Ealing Studios, where the movie is being shot in sequence. Later on the gang turn on each other, each trying to double-bluff the others and collect more than their share of the spoils, but they are still at the stage where they rate each other as diamond geezers ' as do we, initially. Caine says the location shoots have taken them all over his old manor, including the hospital where he was born. «And I'd never been to Ealing in my life, though obviously I knew all about it from the films of my childhood. I was in the dressing room and there was a poster for a movie with Jack Hawkins and another one with Tommy Trinder, which goes back before I was born. It's so nice.»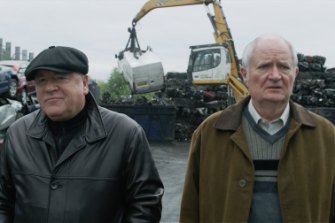 Something similarly commemorative happens in the finished film, where the scene in the strongroom is interleaved with a few frames from old British thrillers such as Robber (1967), or the final sequence with flashes of its stars as young Cockney rebels: Caine in The Italian Job (1969), Tom Courtenay in Billy Liar (1963) and an astonishingly baby-faced Ray Winstone in Scum (1979), all of which prove unfortunate reminders that Marsh's plodding, po-faced true crime story is not going to blow anyone's doors off. There is also a more wistful recollection that the mood on set was considerably more upbeat. Marsh directed The Theory of Everything and brought most of the crew with him to this project. «They're gentle souls,» says Caine. «Everyone is so gentle and nice it's lovely coming to work.»
Winstone has a personal connection to his character Danny Jones. He doesn't want to tell us exactly what that is; suffice to say that he knows he's «fit as a butcher's dog». «You know, he's walked across the Antarctic and he's walked across the Serengeti and raised a lot of money for charity. And I know people who know other people and he's a nice guy who just happens to be a robber.»
That's what lured him in, he says; that's what makes him feel he's just recovered his zest for acting. «We're not talking about gangsters who go round bullying and shooting people, we're talking about men who take a chance in life. I have a feeling they probably knew they weren't going to get away with it. It's kind of like the last hurrah.» That's what he imagines them all telling each other, anyway. «'Listen, before we die, let's have a go at this'.» Unfortunately, this crime didn't pay.
King of Thieves is now screening.