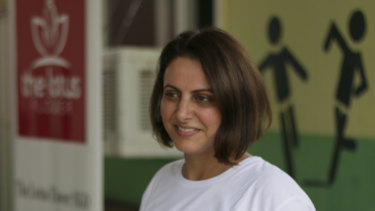 "Despite widespread international condemnation of such acts of terror, nobody has established a route to bring redress or justice for them. The women and girls feel like they have been forgotten.
"Justice can be served in a way that gives them a practical way to start rebuilding … We are hoping Australia will take the lead in this, and others will follow."
It will never take away their pain but we believe compensation will bring them a sense of closure.

Taban Shoresh, founder, The Lotus Flower
Her group engaged a team of international lawyers from the firm Hogan Lovells, working free of charge, in several countries around the world where they want to test this novel approach.
They have several cases in action including the Australian one, involving women who are willing to give evidence about their horrific experiences.
Shoresh said for legal reasons she could not give details about the case, which is due to be heard in March at the NSW Civil and Administrative Tribunal.
But the victims in the initial test cases had suffered enslavement, trafficking and rape, sold as sex slaves to IS in Syria.
"These are survivors of extreme violence," said Shoresh. "We find more stories day by day."
The Sydney Morning Herald and The Age believe the perpetrator in the Australian case is Khaled Sharrouf and others he was associated with.
Sharrouf is a former Sydney resident who was the first dual-national to be stripped of his citizenship under the Federal Government's anti-terror laws. Home Affairs minister Peter Dutton described him as "the Australian face of ISIS".
Sharrouf was killed in an air strike in 2017. His wife and two sons also died in the Middle East, though three surviving children are reportedly still trapped in Syria.
Shoresh said the case was not about her clients against Sharrouf, but was about a "bigger principle" of accountability.
"There is inevitably a focus on the foreign fighters and their wives and individual names attract attention in the media but for us it is about the principle of accountability of all foreign fighters and the States that did not prevent it," she said.
"There must be some accountability to the victims and they should not be forgotten"
It was frustrating that there was no course for compensation directly from the perpetrators, she said – or at least none that wasn't too costly and difficult to realistically pursue.
Loading
Shoresh is herself a survivor of child genocide during Saddam Hussein's regime in Iraq, which she said adds to her determination to win justice for the Yazidi women.
In 2012, IS militants stormed the ancestral Yazidi homeland of Sinjar in northern Iraq, slaughtering thousands of men and kidnapping thousands of women and girls, selling them into sex slavery.
Last year Australia's House of Representatives recognised the IS-perpetrated genocide of the Yazidi community.
Liberal MP Chris Crewther tabled a motion calling on the Australian government to investigate and prosecute the perpetrators of IS crimes against the Yazidis where possible in Australian courts.
Crewther said he supported The Lotus Flower's efforts to seek redress for the women.
Susan Bright, from Hogan Lovells, said the Australian justice system should provide an opportunity for the victims to seek redress.
"We are asking the [court] to recognise the unique situation of our clients, who are part of a community that was systematically subjected to gross violations of human rights law by an Australian ISIS fighter," she said.
"This legal action seeks redress and reparations for the victims, a principle recognised in international law but which, in our view, should also be available in practice."
Loading
If the group is unsuccessful in its claim it hopes Parliament will rewrite the law to give victims in this situation access to compensation payouts.
"There is a gap between the moral imperative to bring justice to victims of the depravations committed by foreign fighters who joined ISIL, and available legal avenues for reparations," Shoresh said. (ISIL and ISIS are alternative acronyms for Islamic State.)
"We are working hard on this, but we need leadership from Australia, UK, indeed all governments."
Nick Miller is Europe correspondent for The Sydney Morning Herald and The Age