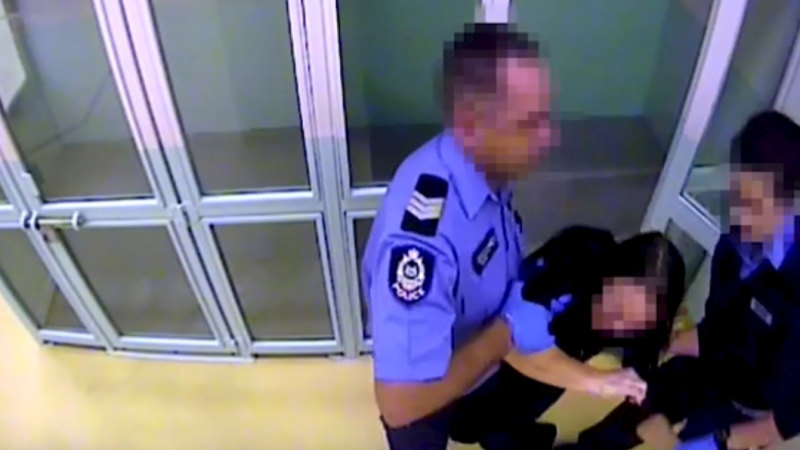 Ms Duncan was taken to the police station, where CCTV footage showed her unable to walk or straighten her legs.
She was carried into a holding cell while crying out in pain and telling officers she «wasn't faking» and was «in a lot of pain».
Officers responded, telling her, «I think you know that you're being exceptionally rude regarding the way you're carrying on here, ok?»
The woman's pleas were ignored by a female officer watching over her who mocked her when she said she wanted to go to the doctors saying, «Aw, [an ambulance] would be a good $1000 for you wouldn't it?»
When the officer swapped shifts, a male police officer asked the woman if she was ok, and as a result, an ambulance was eventually called.
It was later determined she had a dislocated hip and Ms Duncan made an online complaint about the incident months later.
A Corruption and Crime Commission investigation into the incident, released on Thursday, likened the the lack of care given to Ms Duncan to Ms Dhu, an Aboriginal woman who died at South Hedland police station in 2014.
A coronial inquest into Ms Dhu's death was delivered two weeks before Ms Duncan's incident, received wide-spread media coverage and criticism of police conduct towards people in lock-ups.
«The publicity ought to have heightened awareness in custody officers as to the care to be taken in cases of suspected medical issues,» the CCC report found.
«Incredibly, the only reason [Ms Duncan] was detained for a lengthy period was
because she was unable to stand at the counter to have her fingerprints
taken.
«It was not until she was due to be transferred to the Perth Watch
House that Ms Duncan received the medical treatment to which she was
entitled, when she was taken by ambulance to Fiona Stanley Hospital.»
The police internal affairs unit recommended disciplinary proceedings in respect to a number of offices involved, who conceded their failings.
The CCC concluded any person interacting with police was entitled to humane treatment.
«There were so many failures by many officers to afford Ms Duncan timely
medical attention, that it is pointless for the Commission to form an
opinion of misconduct in respect of any one individual,» it found.
«Collectively, the actions on the night justify an opinion that the treatment of Ms Duncan was oppressive, unjust and contrary to law.
«Together, the failure of duty amounts to serious misconduct in the form
of reviewable police action.»
More to come… 
*not her real name
Heather McNeill covers breaking news with a focus on crime, courts and Aboriginal affairs for WAtoday.