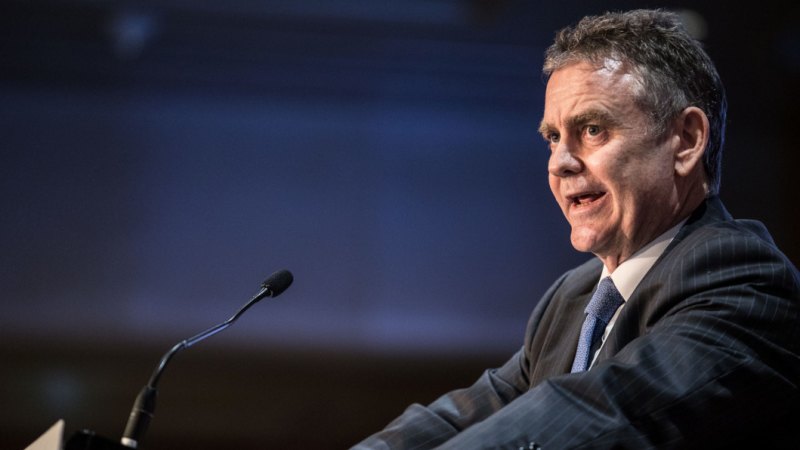 "What they don't need is more partisan disputes, threats of increased regulation, and uncertainty, which are undermining the ability of energy producers and investors to secure the long-term projects we need to make a difference to energy prices."
A global shift in the energy landscape is inevitable.

APA chief executive Mick McCormack
The federal government has been criticised over its failed national energy policy — the National Energy Guarantee (NEG) — and its attempt to drive down power prices through «big stick» regulations.
Mr McCormack is more commonly known within the industry as the man who claims to have designed the foundations of the country's gas pipeline network on the back of a XXXX beer coaster in an outback Queensland pub.
He currently leads gas pipeline company APA, which has a monopoly on moving gas around the country. Late last year, APA was the target of a failed $13 billion takeover bid from Hong Kong-based infrastructure firm CKI.
Mr McCormack said Australia faces gas shortages and high energy prices caused by the government, in part, by enacting regulatory restrictions that stopped new gas supplies.
«We need government policies that enable markets to respond the way they are meant to [to bring in new gas supplies],» he said.
Loading
Mr McCormack said Australia needed to change to prepare for a greater ratio of renewable generation in the grid and that gas pipelines could adapt for this.
"So-called future fuels like hydrogen, biogas, renewable methane and liquid derivatives like ammonia will soon be integral parts of the energy mix. There is enormous opportunity here to adapt existing gas infrastructure to support this,» Mr McCormack said.
"We're in the thick of a total recalibration of the energy mix that will continue to see significant investment in gas infrastructure.
«Leveraging our current infrastructure to make the most of these future fuels will be a game-changer.»
Mr McCormack's speech comes as Australia's first gas import infrastructure received approval to be built at Port Kembla, in NSW.
The Australian Industrial Energy-led $250 million LNG import project, supported by mining magnate Andrew 'Twiggy' Forrest's gas group Squadron Energy, could supply up to 70 per cent of NSW's gas needs.
«The project will enhance gas supply capacity — relieving gas price pressure for families and businesses across the state," NSW Planning Minister Rob Stokes said.
Covering energy and policy at Fairfax Media.