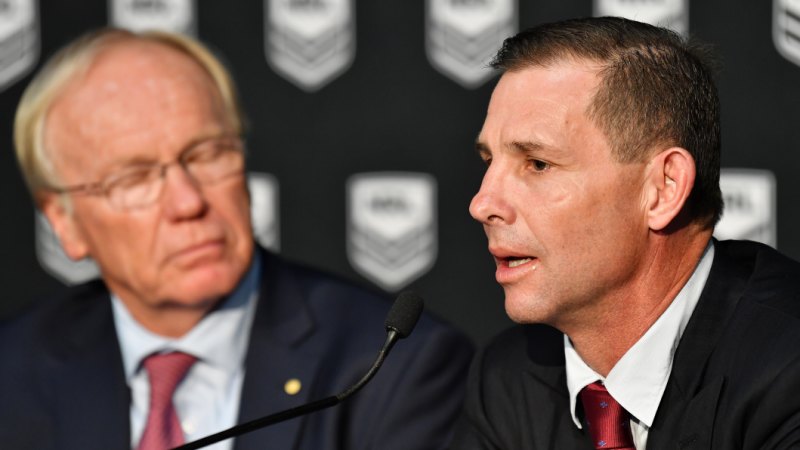 On Thursday, Coyne backflipped. So, too, did other commissioners, who admitted as much to this column before and after Thursday's announcement.
"I obviously did speak about that two weeks ago," Coyne said, momentarily taking a seat alongside Beattie. "I've had a fair bit of consultation with people throughout the game and the commissioners. I've changed my view around that, realising the risk the game has at the moment in terms of its future."
Loading
Those watching in Mudgee winced. Other Dragons types were shocked, too. This hurt because it came from one of their own. In reality, Coyne's internal debate captured the emotions and complications around the ARL Commission's dramatic policy change.
Even by rugby league standards, this was a long media conference: just over 43 minutes — longer than a half of football — but the clear takeaway was that "The Line" is now officially part of the game's lexicon.
It's different to "the line" the Australian cricket team headbutted when it came to sledging opponents on the field. It's different to the world-record line our swimmers hunt down at the Olympics.
This line is set at 11 years. Players charged with criminal offences carrying a maximum sentence of 11 years or more will be automatically stood down for the duration of the legal process.
Offences under the line, especially those concerning domestic violence involving women and children, will now fall to Greenberg. And that, of course, is where the proof will be in this pudding; when we learn if this policy is merely cosmetic and populist or one that can stop players from breaking the law, despite the millions of dollars of education thrown at them.
Given the current strike rate of players disgracing themselves, it shouldn't be long before Greenberg is called upon to make a tough call. The ultimate test for him will be how he handles off-field transgressions from a superstar player compared to that of a disposable bench player on $100,000. How he handles a stuff-up from a player from a glamour club such as the Roosters or Souths compared to a player from Canberra.
Loading
Greenberg is still feeling the heat for providing a character reference for Souths fullback Greg Inglis for his court appearance last month on drink-driving and speeding charges. Would Inglis' charge have been serious enough for him to be stood down? I mean, he's the Australian captain, ornament of the game, loved and respected by all …
That's the Pandora's Box the commission has opened here. Greenberg will have to do something his critics says he's not particularly good at: he will have to take decisive action. He will have to lead.
For some legal experts, the policy change is puzzling.
As reported by the Herald last week, there are already provisions in the current NRL Code of Conduct that gives Greenberg and chief operating officer Nick Weeks the discretion to stand down players even if the court process is still in train.
"We can do that — but only for a short period of time," Greenberg said. Curiously, though, nowhere in the code of conduct is there any reference to time. Other lawyers says this is a nonsense.
Pressed on whether he had "thrown Greenberg under the bus", Beattie rambled: "This is not my policy, it's the commission's policy! They're sick of me ringing them, sending them emails. This is a collective decision. I'm a team player. None of the people here are 'yes' people. They're not wimps … Todd's in a difficult position. That's what he gets paid for. He's got to make tough decisions in terms of disciplinary matters. We all have enormous faith in him. He's a good CEO. But someone's got to make a decision. I have confidence that he can do it and do it well."
Greenberg gets to flex his new discretionary muscles in coming days when he decides if Dylan Walker, who has pleaded not guilty to domestic violence-related assault occasioning actual bodily harm and another charge of common assault, gets to take the field in round one. Walker won't appear in court again until May.
Beattie has faith in Greenberg but does the wider game have much faith in Beattie? He defended his very public campaign in recent weeks to stand down de Belin, something that angered the Dragons and de Belin so much that they issued him with a legal letter.
"As a chairman, for us to run away from the public debate and hide would've been an act of cowardice," he declared. "I was very careful to what I said. But if you're chairman of the Australian Rugby League Commission you have a responsibility to consult with the clubs, the players, take the fans with you, take the community with you.
''Let's not talk nonsense. We all know these are serious events damaging to the game. We had to do something about it. The debate was healthy. All you guys [the media] called me about it …"
Well, not all of us.
Loading
In truth, Beattie first started beating his chest about this issue when the Illawarra Mercury obtained and published the statement of facts that contained the graphic accusations of the 19-year-old woman.
If not for that, there is every chance Beattie and Greenberg wouldn't have been fronting a media conference talking about the protecting the game's reputation. The old policy of letting natural justice run its course would still be in place.
"It was actually all the events," Beattie insisted, referring to the litany of off-season indiscretions that have rocked the code. "This could be misinterpreted and I'll run the risk of it: if there was one or two of these events, we would've let it go through the process but we ended up with a tsunami. My attitude changed when the old rules weren't working. 'Give it another week, give it another week … ' We had to intervene. We wanted to see if the existing, old rules worked. And they didn't. We got to a point where frankly we had to change the rules."
Regardless of the motives behind the policy change and whether the Dragons have been unfairly treated, Beattie and the commission deserves praise for doing something. Because something had to happen. It's why Coyne backflipped.
"Many women involved in the sport have lost confidence in the game, particularly in respect to the treatment of women and violence towards women," commissioner Megan Davis said. "This decision will ameliorate some of those concerns but there's a bigger piece of work to be done."
Andrew Webster is Chief Sports Writer of The Sydney Morning Herald.