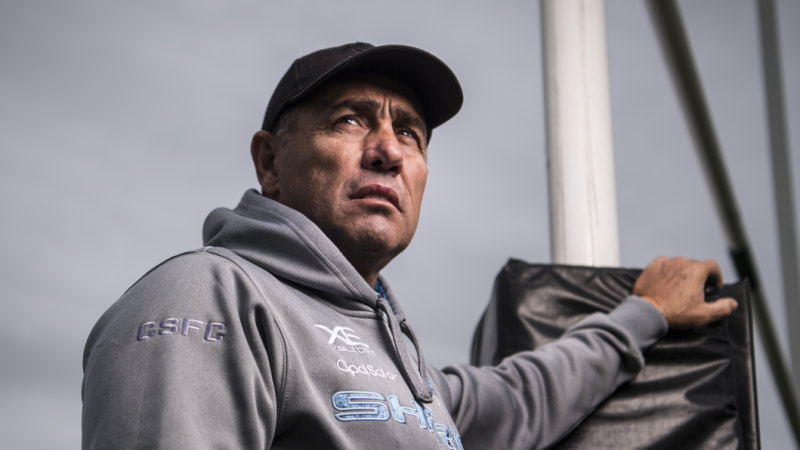 But the man to deliver Cronulla their only title remains popular with players and has so much more to give to the game.
So says his son, Kyle Flanagan, the Cronulla playmaker who is relishing the chance to receive vital pointers from his famous father.
Loading
''He's good, it was a tough time at the start of it, but he's come through it and he's now waiting to hear what's going to happen with his appeal,'' Kyle said. ''He can't wait for it to come around and wants to know. We have a positive mindset.
''I noticed all the players here and how much they miss him and the respect they have for him. He loves his players and the game so much. He offered so much to the game. He'll definitely be back.''
Flanagan struggled when he was first deregistered after the NRL had discovered there had been contact between the suspended coach and club on more than 50 occasions. On one occasion Flanagan was consulted about signing Blake Austin, despite being ordered to stay away.
John Morris is now in charge, but Flanagan will continue to help Cronulla through his son.
Flanagan was given his NRL debut by his father late last season, but must now bide his time behind starting halves Chad Townsend and Shaun Johnson.
With his father in his corner, Kyle is backing himself to become a regular in the top flight.
''He knows my game better than me sometimes,'' Kyle said. ''Obviously being the first trial on the weekend he wanted me to focus on my defence and kicking well, the two most important parts of a halfback's game.
''He's always watching and pulls me up on the smallest things. It frustrates me sometimes.
''There have been a few arguments over the years with small things, but we're always on the same page, we talk about other teams and what they are doing and what shapes they are running. It's always good watching Friday night footy with him.''
Flanagan never once thought about quitting the Sharks after his father resigned.
He has often spoken with Nathan Cleary about the positives and negatives of having a father as a first-grade coach.
Loading
''The pressure is always there, and nobody treats you differently because your dad is coach. You just do your job,'' Flanagan said.
Flanagan saw first-hand how Cronulla overcame adversity for so many years, and expected nothing different once his father's punishment – and a club fine for their self-reported salary-cap breaches – was delivered on Friday, just a couple of weeks out from the season kick-off.
''In years gone by when our backs have been against the wall, I remember everyone would say 'the Sharks can't win when Gal doesn't play', but then they'd run out and win,'' Kyle said.
''The boys will rip in. We've got some world-class players.
''I want to put my best foot forward and see what happens.''
Christian covers rugby league for The Sydney Morning Herald.