Electric Canvas technical director Peter Milne said there was no unifying theme for the festival this year, with each institution helping to curate its own images.
«It's all about them this year, and their contributions, and we are the conduit to bring those things to life in an architectural way,» Mr Milne said.
«One thing that is new this year is that for the first time, the National Gallery of Australia will have animated content on it whereas before it had only a series of static treatments.
«This year there is an animated feature based on the work of Aboriginal artist Tony Albert.»
The projections will include everything from the year's best political cartoons displayed on the Museum of Australian Democracy (aka Old Parliament House) to tributes to the moon landing's 50th anniversary and the International Year of the Periodic Table, both at Questacon. Maps, flora and fauna and cartoons will be displayed on the National Library, while artistic displays, indigenous works and images to do with women in politics will be projected onto Parliament House.
The National Portrait Gallery will also acknowledge the 1969 moon landing, with its ever-popular interactive photo booth.
«You get into the photo capsule, and it'll put a space helmet or alien ears on you and your photo will be taken through an old-fashioned 1969 television,» Mr Milne said.
The Electric Canvas has also worked with the Australian National Botanic Gardens to do projections there for Enlighten.
«There'll be magical koalas feasting on magical leaves in the eucalypt garden, so that's well worth getting up there to have a look at,» Mr Milne said.
The company started work on Enlighten way back in October.
«But no matter how early you start, it's always down to the wire,» Mr Milne said,
There will also be a myriad of mesmerising, interactive and just plain fun installations in the Parliamentary Triangle. Many are appearing for the first time, such as the Neon Dog Park of lit-up pooches, Neon Angel Wings made Insta-famous by Katy Perry and Red Air, a series of larger-than-life lanterns adored with indigenous designs.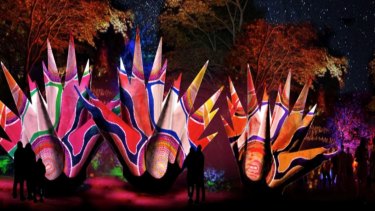 Punters will also be able to actually hear what Lake Burley Griffin sounds like in Beneath the Surface, an immersive soundscape created by Canberran Tim Duck.
Food also remains front and centre at the festival, with the Canberra Night Noodle Markets returning from March 1 to 10.
Glownuts — those glow-in-the-dark doughnuts — will be back. Their crafty creators, Nutie Donuts, are also bringing to Enlighten a special glow-in-the-dark Milky Way Sundae. They will be in Enlighten Alley on the East Lawn on March 1 and 2 as well as March, 8, 9 and 10.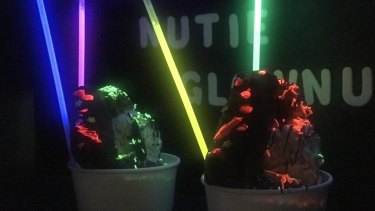 Enlighten Festival executive producer Vickii Cotter said this year there would be many more on-the-ground attractions that allowed direct interaction with the public.
«Some of the most exciting things, from my perspective, is that we've really focused on a lot of installations. We have 11 this year, we only had two last year,» she said.
One of the most stunning installations will be placed in the (empty) Reflection Pool in the Parliamentary Triangle for the first time, a work called Animalcule — a 40-metre-long light bubble.
«It's going to look spectacular,» Ms Cotter said.
National institutions outside the Parliamentary Triangle will also be participating.
«Places like the Mint, National Botanic Gardens, the zoo, [the] National Archives. They're all doing free and ticketed shows, which is great; adding heaps of colour and movement and opening up those attractions after dark, so people can see them in a different light,» Ms Cotter said.
The Sydney and Melbourne buildings in Civic will also be lit up for Enlighten.
The National Zoo and Aquarium is presenting Zoofest on March 7 and 14, with activities such as face-painting, air tattoos, stalls and entertainers.
Ms Cotter said it was also «really exciting» to be working with the Aboriginal Tent Embassy this year, with a smoking ceremony due to take place at 7.30pm on Friday, March 1 at the embassy.
«It will be really beautiful and just a nice way to welcome everyone onto the land,» she said.
The Enlighten Festival comprises:
Illuminations: March 1-11
Canberra Night Noodle Markets: March 1- 10
Lights! Canberra! Action!: March 8
Canberra Balloon Spectacular: March 9-17
Symphony in the Park: March 10
Canberra Day @ Stage 88: March 11
Skyfire: March 16
For more details go to www.enlighten.com.au
Megan Doherty is a reporter for The Canberra Times