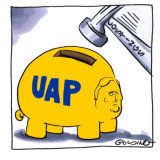 Mr Morrison pointed to Labor's «$387 billion» in extra taxes over the next decade as a substantial economic threat.
But Mr Palmer, who on Wednesday is expected to announce a plan to make direct grants to first home buyers, is going to the election promising a $150 a week increase in the age pension, a policy that at a minimum would cost federal taxpayers $15 billion a year.
He also has a plan to allow people to claim as a tax deduction the interest they pay on their mortgage, similar to how businesses can claim interest on debt as a deduction.
Last month, 57,000 home loans were taken out by Australians. A $10,000 a year cap on just those loans would cost more than $500 million. Over a year, the interest deduction on new loans would approach $7 billion.
Another big ticket item proposed by Mr Palmer is to cut by 20 per cent the tax paid by people living at least 200 kilometres from their state capital.
No costings of this has been done on the policy but it would be a substantially larger cost to the budget than the existing zone tax rebate that exists for people who work at least half of the year in remote parts of the country.
The policy would capture millions of taxpayers, particularly in rural Queensland, regional NSW centres such as Orange, Wagga and Albury but Victorian centres such as Ballarat and Bendigo would be excluded.
One of Mr Palmer's most contentious plans, articulated in his advertising, is to limit the investment options of superannuation funds.
Mr Palmer has said that «Australian super should be invested in Australia», a proposal that could potentially crimp the returns of funds. It would also hit investors who take advantage of investment mixes that include foreign shares, property and bond markets.
Another costly proposal is a network of fast trains which Mr Palmer says could deliver a potential passenger to the centre of Sydney or Melbourne from up to 300 kilometres away within an hour.
The Coalition has backed a $2 billion investment in a fast train connecting Geelong to Melbourne in a move the Victorian government has said would probably cost close to $12 billion.
To help cover these promises, Mr Palmer has proposed overhauling the timing of when companies pay their tax. Instead of paying quarterly, firms would only have to pay once at the end of the financial year.
The businessman argues this will super-charge the economy, with up to $70 billion injected into the economy while raising $21 billion in tax revenue.
Loading
Mr Palmer's plans around gender equality go further than any of the major parties, advocating laws to guarantee «each gender is well represented» in cabinet.
«We need laws requiring all genders to be properly represented in all decision-making bodies of the Australian government,» he has pledged.
Shane is a senior economics correspondent for The Age and The Sydney Morning Herald.