The other Australian Eurovision jurors are Triple J presenter Lewis Hobba, composer Alice Chance and broadcaster Mark Cummins.
Cummins will serve as the jury's chairperson.
Final scores in the Eurovision Song Contest are compiled by mixing the jury's vote with the audience «televote»; viewers in all 41 participating countries, including Australia, are eligible to vote.
Past jurors for the Australian Eurovision jury include producer Amanda Pelman, journalist Richard Wilkins, singer-songwriters Danielle Spencer and Monica Trapaga and musical theatre performer Lucy Durack.
Australia entered the competition in 2015 and has competed for the last four years.
Singer-songwriter Kate Miller-Heidke will represent Australa's fifth run at the Eurovision crown, following in the footsteps of Guy Sebastian, Dami Im, Isaiah Firebrace and Jessica Mauboy.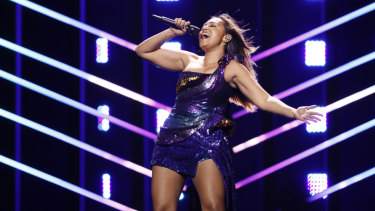 Despite being a relatively young participant in the competition, Australia does have a long history with Eurovision.
That includes singers Peter Doyle and Marty Kristian, who performed with The New Seekers representing the UK in 1972, Olivia Newton-John, who represented the UK in 1974, Australian songwriter Johnny Logan, who won in 1980 and 1987 for Ireland, and wrote Ireland's winning song in 1992, and Australian singer Anja Nissen, who represented Denmark in 2017.
SBS has also named the electric-soul music duo Electric Fields to the role of «spokespeople».
The pair, Michael Ross and Zaachariaha Fielding, were runners-up at Eurovision: Australia Decides, the national competition in which Miller-Heidke secured her position as Australia's 2019 Eurovision entrant.
The nominated spokesperson or spokespeople announce Australia's scores during the second half of the grand final telecast of the competition.
That is the segment in which each country allocates one to seven points to seven countries and then announces which three countries will receive eight, 10 and 12 points respectively.
Securing the biggest score — douze points, as the French say it — from other countries is a major coup in the Eurovision competition.
The shame of securing no votes from another country — a so-called nul points — is also a hot topic of discussion each year.
Though the competition invites competitors from European countries, and some countries outside the European continent, including Israel and Australia, the votes are still presented in either English or French.
The 64th annual Eurovision Song Contest will be held in Tel Aviv between May 14-18 and broadcast on SBS.
Michael Idato is entertainment editor-at-large of The Sydney Morning Herald and The Age.
Most Viewed in Entertainment
Loading