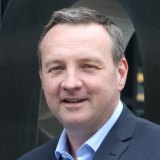 The Greater Sydney Commission has also earmarked the so-called Greater Parramatta to Olympic Peninsula (GPOP) as the Central City in its plan for three separate, but linked, urban centres.
A report compiled by the two business groups said there was a «strong case for a single authority with oversight of project delivery» for the area.
They will call on the government to appoint a chief co-ordinator to work with the governing agencies to oversee land-use planning and delivery of projects such as the Metro West, Parramatta light rail and associated road projects.
They also want to develop a single set of economic development targets for the precinct, factoring in the growth that will come with the metro and light rail developments.
Loading
«Between the Sydney Olympic Park Authority, Greater Sydney Commission, Department of Planning and Environment, Sydney Metro Authority, Transport for NSW, Infrastructure NSW, Parramatta City Council and an array of non-government and private sector stakeholders, the governance of the wider Greater Parramatta and Olympic Peninsula area is a complex task,» the report said.
Western Sydney Business Chamber director David Borger envisaged that a chief co-ordinator could employ «soft power» to oversee projects and intervene to ensure they were delivered appropriately.
«The fundamental problem of government always is that individual agencies run their own race and they don't always manage certain areas or precincts well.
«Someone needs to be in charge, and we don't have anyone in charge.»
Western Sydney Leadership Dialogue chairman Christopher Brown said the area was «suffering from a lack of transport access and a lack of co-ordinated governance».
«It's the very centre of Sydney, and we're ignoring it,» he said.
Mr Brown compared the progress of the Sydney Olympic Park site to the way London had used its Olympic site and surrounding areas in the six years since that city hosted the 2012 event.
«In London, you've got world-class museums two universities, a technology park, you've got a big shopping centre,» he said. «Sydney doesn't do well in comparison.»
Megan Gorrey is the Urban Affairs reporter at the Sydney Morning Herald.