"The boys are from Darwin and I would love to be able to help bring them home with the support and love of our community so we can bring the boys home without putting the family behind," a statement on the page read.
More than $2700 of Mr Austral's $6000 target had been raised since Tuesday.
The boys' mother, Leeann Eatts, was contacted about the fund-raiser.
She had been inundated with messages of support from friends, family and strangers on Facebook, after announcing she would go offline to recover from the tragic news.
One friend wrote: «These little boys were angels in my eyes and I loved them to pieces.»
«RIP you beautiful boys,» another friend wrote.
«Please remember what I said last night, it's not your fault, please don't blame yourself,» another posted.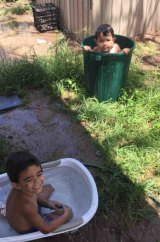 Ms Eatts had pleaded with the Townsville community to join the police search on Monday night, before the heartbreaking discovery.
"Please, if you live near a park or driving past it, take time to have a look, they will be cold, hungry and tired now. Mum is missing you boys so, so much," she wrote.
The boys' aunt Ros Eatts told Brisbane Times their mother's heart had been "shattered into millions of pieces".
The boys were found after an extensive search by more than 100 people.
The brothers were reported missing about 6.30pm, after they were captured on CCTV walking alone on a suburban street towards the river on Monday.
Police were doorknocking on Tuesday to build a timeline of the boys' movement in the hours before their deaths.
Support was being offered to the classmates of five-year-old Barak, who had just started at Cranbrook State School.
A report is being prepared for the coroner.
Lydia Lynch is a reporter for the Brisbane Times