Well, maybe. Right now it depends on which television or streaming device you have. I couldn't find the television app for my current generation Apple TV, the website says iOS TV support is 'coming soon'. So, no pictures at our place. The parental control app is available on iOS and Android.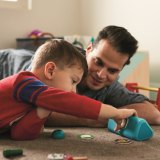 The seeds are available as spoken stories, music and video and each variety is colour coded. While some appear extensive the running time of each is not among the product details on the website. The Birde is supplied with six seeds that include Play School and The Wiggles, and a couple of these run for only around ten minutes before repeating. But one is a cat purring that goes on for, oh, forever. I guess it's supposed to put your littlie to sleep. It was working just fine for me until the barnyard chooks came along. Seeds are available from $11.95 to $29.95.
The device itself is well made, nicely finished and washable. Most importantly it's kid-proof. My two testing assistants, aged five and three, are pretty rough and it still looked good after a few days with them. It also sounds pretty good. There are only two colours, purple and blue, and it's supplied with a charging tray that charges without a cord, but nowhere is there any indication of how much charge remains.
Because I'm a pedant I noted that the alphabet song on the Story Bots seed pronounces it 'zee' rather than 'zed', and the Big Brown Boogie Bear weighs 500 pounds, so you'll need to explain to your little one that this is really 226.8 kilograms.
My assistants enjoyed tapping the seeds to change programs but without pictures they didn't stick with them long. Your kids may be different, but at our place the Birde didn't stand a chance against the three Capital Ps; Peppa Pig, Pocoyo and Paw Patrol.