With an impressive set list of 32 songs I was worried he would get bogged down in slower tracks but the entire show was more of a medley of his hits rather than full songs, giving fans enough of each song to satisfy before roaring straight into the next one
On a no frills stage and flanked by two towering screens and backed up by a talented band and hype-man Mr Porter Mathers started in a flurry of aggression with Greatest off the 2018 surprise album Kamikaze.
The single encapsulated the rapper's 'I don't give a hoot' attitude, taking aim at the entire rap scene and media after his 2017 album Revival was panned.
With hundreds of tracks to choose from Mathers delved into the depths of his discography, rapping tracks from Kamikaze right through to 1999's Slim Shady LP.
The mosh got right behind a powerful rendition of White America from 2002's The Eminem Show, it is a song meant to be a middle finger to middle-class America, but clearly resonated with middle-class WA.
The rapper then tested his lung capacity with 2013's Rap God from his Marshall Mathers LP 2. When it was released it broke the world record for most words spoken in a hit single and Mathers executed the machine gun-like verses without fault.
The moody Sing for the Moment and Like Toy Soldiers took me back to my days as an angsty 14-year-old thinking my life in Armadale was pretty similar to the violent early 2000s rap scene.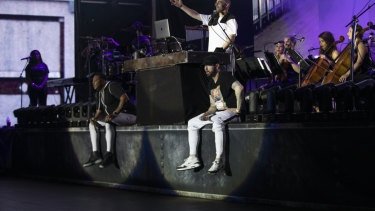 Wisconsin singer Skylar Grey lent her impressive pipes for choruses in tracks like Walk on Water, originally sung by Beyonce, and Stan, originally sung by Dido on his 2000 album The Marshall Mathers LP.
Mathers missed a few lines in Stan due to what looked like technical issues, which later in the set he apologised for.
A highlight was when he touched on his country/rock/rap crossover phase with 2013's Bezerk, which samples Billy Squier's The Stroke.
River from Revival was a fitting choice for the location given collaborator Ed Sheeran and Eminem are two of three artists who have performed at the stadium in its 14 month history.
Mathers saved his biggest tracks for last, with My Name Is, The Real Slim Shady, Without Me and Not Afraid blowing the frenzied crowd away.
Lose Yourself from Mathers' 2002 loose biography 8 Mile was the perfect ending to the set that welled up all kinds of emotions from a fan who has been listening to him since my early teens.
Eminem fans proved a much livelier crowd for stadium staff and security than Ed Sheeran and Taylor Swift who performed at the venue last October.
It was a thirstier bunch too, drink lines were painful and there are definitely some kinks to be ironed out for any future high energy acts.
4.5/5
Eminem
Optus Stadium
February 27, 2019
Hamish Hastie is WAtoday's business reporter.