In Sydney's case, they traded a decent draft pick out and received one back from the same club, West Coast, after Blakey had been snared at a bargain price.
The review will ask clubs about whether there is a better or fairer system for the drafting of academy players.  They receive a 20 percent discount on academy players at the draft under the points system.
The eligibility rules for NGA players has been contentious, after a number of players — of differing ability — were allocated to clubs. Under the NGA rules, the players must be born or have one parent born in Africa or Asia, have both parents from a non-English-speaking country or be from an Indigenous background.
Clubs have complained that the NGA represents a virtual «rort» when the player is already established as a high-level player — such as Thomas and Qaynor — before he is designated to a club.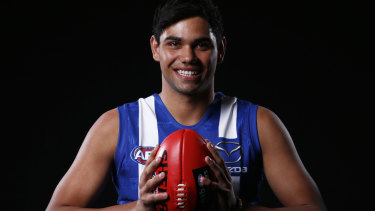 The review is expected to pose the question of whether the northern states academies — which have seen the Swans gain outstanding youngsters Isaac Heeney, Callum Mills and now Blakey via their million-dollar program — are fulfilling their objectives, such as creating a pathway for players in developing markets.
A similar question will be posed to clubs about the NGA — whether they are helping multicultural and Indigenous youngsters to play the game and become AFL players.
The Greater Western Sydney academy also was the subject of much complaint from Victorian clubs, who successfully lobbied for a reduced zone in football-friendly southern NSW, with the Giants losing the territory just north of the Murray around Albury.
The NGA, indeed, were introduced, in part, to pacify the clubs — led Eddie McGuire's Collingwood — who believed the Sydney and Queensland teams had been given too much of an advantage.
But the Brisbane Lions and Gold Coast Suns view their academies as absolutely essential, given the «go home» factor those clubs confront, the pressure this places on their player payments and the need to find local players.
The Lions have picked up outstanding defender Harris Andrews and talented forward Eric Hipwood via their academy, while the Suns drafted Jack Bowes, a midfielder rated inside the top 10, in 2016, as an academy recruit.
Clubs were informed of the academy review this week. McKay will be asked to make recommendations, which will be handed to the AFL competition committee and AFL executive, before potential consideration by the AFL Commission.
Jake Niall is a Walkley award-winning sports journalist and chief AFL writer for The Age. He writes news, commentary and analysis on a variety of other sports.