What's manslaughter?
Manslaughter applies if someone is killed in unlawful circumstances but the accused didn't intend to kill. It carries a maximum penalty of 20 years in jail.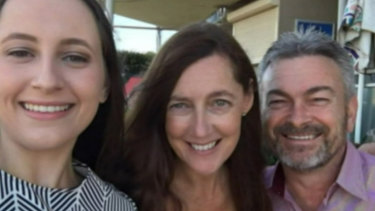 What's the key difference?
Victoria Legal Aid chief counsel Tim Marsh, who has no connection to the Ristevski case, says the difference is an accused's mindset when they killed. Prosecutors must prove an accused intended to kill or cause really serious injury for a murder charge to stand.
«All homicides involve the death of a person and that the accused has consciously, voluntarily and deliberately committed an act that causes the death of a person. But then the road forks,» Mr Marsh says.
«On one hand you have an intention to kill or cause really serious injury, or the knowledge of the probability that death or really serious injury will result. Then on the other hand, a lesser intention such as to cause a serious injury but not a really serious injury.»
Most murder trials have manslaughter as an alternative charge if the jury is not satisfied the accused person intended to kill or cause really serious injury. It is not uncommon for someone to plead guilty to manslaughter before a jury, but plead not guilty to murder.
In circumstantial cases, like police and prosecutors built against Ristevski, juries are asked to draw inferences about an accused person's state of mind at the time they killed.
«This is one of the dynamic things about homicide trials,» Mr Marsh says.
«You're often trying to reconstruct a person's mindset from the surrounding circumstances: the nature of the weapon, there might be issues of motive that might give a clue as to whether a person intended to kill, there might be issues around post-offence conduct.»
A review of homicide sentencing practices by the Sentencing Advisory Council found the average jail term for killers sentenced for murder is 19 years and one month.
That is almost three times higher than criminals sentenced for manslaughter, who on average receive a jail term of six years, 11 months.
Why did the charge against Ristevski change?
Ristevski was committed to stand trial for murder and pleaded not guilty. One month later, in September last year, he offered to plead guilty to manslaughter. Prosecutors rejected the plea offer because they wanted him to stand trial for murder.
Two weeks ago, as Ristevski prepared to face trial, Supreme Court Justice Christopher Beale ruled that a jury could not be told about how Ristevski withheld information from the police about Karen's disappearance.
That ruling made a difficult job harder for prosecutors — who already were without Karen's cause of death and any eyewitnesses — so they replaced murder with manslaughter, acknowledging they couldn't prove beyond reasonable doubt Ristevski intended to kill Karen at their Avondale Heights home on June 29, 2016.
Ristevski's lawyer, David Hallowes, SC, told the court on Wednesday when Ristevski offered to plead guilty to manslaughter on March 13, prosecutors accepted.
The plea meant the trial would no longer go ahead. Chief Crown prosecutor Brendan Kissane, QC, acknowledged it was «no small thing» for Ristevski to spare the court the costs and time of a trial, and spare witnesses giving evidence.
But members of Karen Ristevski's family said in victim impact statements that selfishness and avoiding a murder charge was the only motivations behind the killer's plea.
Ristevski hasn't come clean on how and why he killed his wife.
What's a plea deal and why do they happen?
Plea deals happen every day in Victorian courts, where criminals admit guilt in exchange for prosecutors downgrading or dropping charges, or not pressing parts of the offending.
Lawyers say without deals the system would collapse under the weight of lengthy criminal trials, but horse-trading can also infuriate police and crush those seeking justice: victims and their families.
«It's not a justice process, it's a legal process and they run it like you would any business … to save costs,» says a victim of another crime, who is dismayed prosecutors accepted a lesser charge against a violent criminal instead of pushing the case to trial.
In its 2017-18 annual report, Victoria's Office of Public Prosecutions (OPP) recorded a guilty rate of 91.8 per cent for people charged with serious crimes. The number of trials is at a new low of 18.9 per cent.
The OPP acknowledges early resolution contributes to both figures.
Some notorious deals include Rodney Phillips and Sam Liszczak, who faced attempted murder charges for shooting a policeman in the head but were jailed on recklessly causing injury and other charges; Brandon Osborn, who put a gun to partner Karen Belej's head and pulled the trigger in 2016 and pleaded guilty to manslaughter; and Andrew Lee, who pleaded guilty to manslaughter for fatally punching Patrick Cronin, when prosecutors opted not to seek a mandatory 10-year jail term.
The eventual jail terms in those cases angered victims.
Prosecutors must seek victims' and police input and get a senior prosecutor's approval before any deal.
Police nominate plea dealing as one of their biggest gripes, as their work «amounts to nought».
«It's frustrating. As police, we are a cynical lot, so we think sometimes it's driven by the costs involved,» one officer says.
Lawyers acknowledge deals bring tension, but the system would grind to a halt without it.
«More people would go to trial and get acquitted because the system is heavily weighted in favour of the accused … it would break down in a week,» one says.
Where lawyers are pragmatic, some victims remain troubled at seeing their case bartered against their wishes.
«You don't want other families to have to go through it, but unfortunately they will,» one victim says.
Adam Cooper joined The Age in 2011 after a decade with AAP, the country's news service. Email or tweet Adam with your news tips.
Tammy Mills is a Crime Reporter for The Age.
Erin covers crime for The Age. Most recently she was a police reporter at the Geelong Advertiser.