«I'm really excited actually, I haven't played with Mack, I've trained with him most times over the pre-season and obviously he's a special talent,» Beale said. «He's been a bit quieter than usual around training but that's usually a good sign, the way I look at it. He brings a lot more directness to the game I think — although Bernard's pretty similar — [Mack] is a leaguie.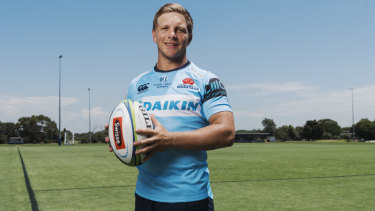 «I think that's probably my natural gravitation towards him as well, we both see the game with similar eyes at different times of the game so I'm looking forward to building the combination there with him and I'm sure he'll do a great job leading the boys around and filling in the shoes of Bernard quite well.»
Newcastle is rugby league heartland. The Knights drew a crowd of almost 22,000 to McDonald Jones Stadium for their round one game against the Sharks last month and the Waratahs' local hero Harry Johnson-Holmes spent his teenage years playing touch footy on the hill before Knights games.
But the city and wider Hunter region have also long been rugby strongholds, with participation rates holding their own across juniors and seniors in XVs and sevens, and a new girls sevens program boasting 110 juniors in the first year.
Loading
You could never say they were lavished with attention in return — benign neglect may be the kindest way to put it — but the locals came out in droves when Scotland ambushed the Wallabies here in 2012 and again a year later when the British and Irish Lions played a Combined NSW and Queensland Country side in a mid-week tour game.
The city was dealt a blow last year when Australia were outpoliticked by New Zealand for hosting rights to the 2021 Women's Rugby World Cup, but the Waratahs decision to take a game up has been warmly received, with 15,000 expected on Friday night.
The Wallaroos will host Japan in a Test match in July and the Newcastle Herald reported recently that the local union was fielding offers from Global Rapid Rugby to base a team here next year.
Johnson-Holmes was playing under 15s for the Wanderers when Scotland brought the driving rain with them in 2012 and was there again the next year, when Country coach Cam Blades had to ship in emergency boots for a monster young No.8 he wanted to use called Rory Arnold.
«It was really cool to finally see a bit of rugby here,» Johnson-Holmes said. «It's great to come here and watch great sporting spectacles like the Knights and Newcastle Jets but to actually have rugby here was that glimmer of hope that maybe one day Newcastle would be a bit of a fortress for Hunter rugby.»
Georgina Robinson is the chief rugby reporter for The Sydney Morning Herald.