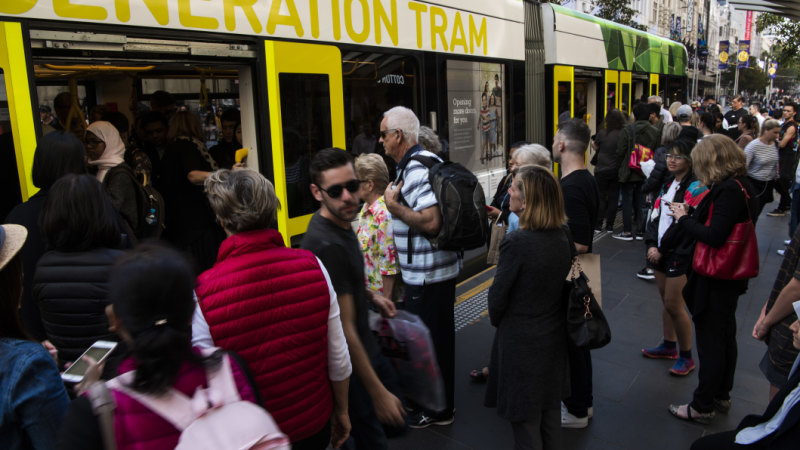 Loading
The worst will start on April 8, when Cranbourne, Pakenham, Frankston, Gippsland and Warrnambool trains stop until April 23.
Commuters on each of these lines will face hour-long delays, as construction crews start building the Metro Tunnel's South Yarra entrance, by lowering Dandenong train tracks beneath the Sandringham and Frankston lines to feed into the new tunnel.
Public Transport Victoria is adopting strategies it uses for events like the Australian Open and the Grand Prix to help people get to the footy on time, chief executive Jeroen Weimar told The Age.
PTV will run more than 100 extra tram services on routes 70, 75 and 48 for each match, with the extra services starting up two hours before and continuing after the game, until the crowds clear.
The free tram zone will also be extended, while the AFL is preparing to hand out water, snacks and other sweeteners to help ease the pain.
Tram tracks on routes 70, 75 and 48 have not been upgraded to carry the biggest E-class trams, but PTV will prioritise C, D and B-class trams on these routes, Mr Weimar said.
«We will keep shuffling them up and down those routes until people have cleared the ground,» he said.
«We bank them up, particularly after the game … we have trams banked up, ready to go, taking as many people as we can.»
Footy fans taking express services from Caulfield to the city will have to walk from Federation Square or the Arts Centre, as buses will not stop at Richmond station.
Mr Weimar said crippling congestion on Punt Road on match nights meant that directing express bus services to Richmond was not feasible.
«There's not enough room on the network to get people on and off safely or to avoid massive congestion on Punt Road or Swan Street,» he said.
«If the buses are all bottlenecking around a location where you haven't got room to hold people safely on the pavement … it just doesn't work, so by moving them to Federation Square east and the Arts Centre, you've got loads of space.»
Demons fan Courtney Hill said she will drive herself and her three-year-old son Max from Southland to the football this weekend, after what she described as a nightmarish experience travelling on buses replacing Frankston trains two weekends ago.
She said two hours before the Demons v Port Adelaide game, at least 5000 people were waiting at Caulfield station for buses that were nowhere in sight.
«A bus finally arrived that was going to stop all stations, then they finally decided, well you're all going to Richmond so we'll just go straight to Richmond.»
She left the game at three-quarter time in a bid to beat the traffic, but struggled to find the stop because of poor signage and waited about 45 minutes before getting on a bus.
«If you've done that once, you're not going to do it again,» Ms Hill said.
«It's just not feasible to do that with young children in any way, shape or form.»
However, Mr Weimar is assuring commuters that the bus network is well prepared for the coming shutdown.
At the height of the rail closure, three buses will leave or arrive at Caulfield every minute, he said, with PTV planning to run a bus to match every train.
Six hundred buses would carry 100,000 people between Caulfield and the city during the morning and afternoon peaks.
Footy crowds of 60-70,000 people paled in comparison, especially given not all would use public transport, Mr Weimar said.
Loading
PTV has promised there would be plenty of signage and 150 customer service staff helping people get around.
VicRoads' Planned Disruption Management Centre, which monitors traffic during peak periods to ensure incidents are responded to quickly, will be extended to cover the marquee AFL games.
Bicycle Network is encouraging south-eastern commuters to ride to a stop on the Glen Waverley line and catch the train, or ride all the way into the city.
The cycling group plans to visit stations on the Cranbourne, Pakenham and Frankston lines during the week to give commuters cycling tips during the shutdown.
Yarra Park will be open for public parking on Friday and during the weekend, while parking at the MCG will open on Sunday and potentially Saturday.
The shutdown will see closures on the Werribee, Mernda, Hurstbridge, Pakenham, Cranbourne, Frankston, Sandringham, Ballarat and Gippsland lines.
Gippsland passengers will get free travel because of the significant disruption to their travel over the past 18 months.
The AFL is not expecting that the disruptions will have a significant impact on crowd numbers.
Monday will be the first day of a month of rolling train disruptions across Melbourne's train network due to the building of the Metro Tunnel. If you're affected by the disruptions, tweet us details, photos and videos using the hashtag #trainpain.
Timna Jacks is Transport Reporter at The Age