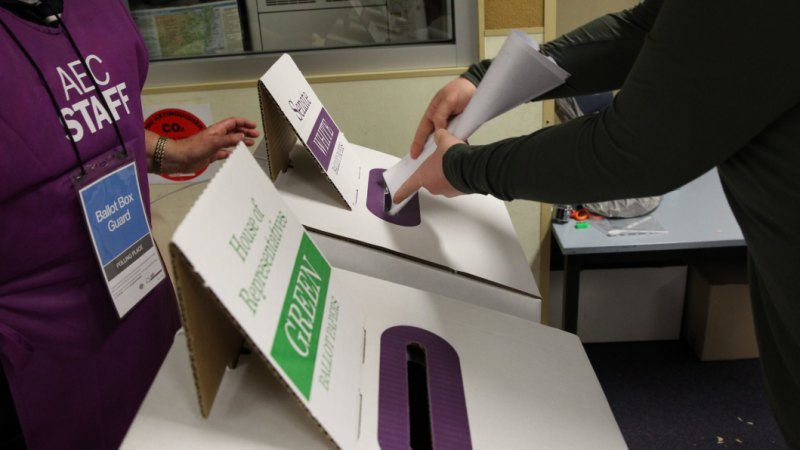 «Voluntary voting would only serve to create two-tiers of electors, an outcome that would neither benefit the Australian electoral system, or the young people this bill purports to elevate,» Senator McGrath said.
Loading
If the bill was to pass parliament, the committee recommended compulsory voting should be extended to 16 and 17-year-olds.
«While the committee respects the arguments made by a number of submitters about additional responsibilities being placed on young people, it considers that the right to vote should come with the responsibility to vote,» the committee's report said.
«The parliament may wish to give the Australian Electoral Commission the discretionary power to automatically waive fines for non-voting for those under the age of 18.»
Stronger electoral education should also be provided to teenagers should the legislation pass, according to the committee, with a confidential electoral roll for 14 to 16-years-olds also suggested.
Loading
A survey of young people in the ACT, conducted by Young Women Speak Out, found more than 60 per cent of young people supported lowering the voting age.
However, the most recent Australian Election Study, a survey of voter attitudes after every election since 1987, found in 2016 just 11 per cent thought the voting age should be 16.
Currently, there are 11 countries with a legal voting age of 16, including Scotland, Brazil, Argentina and Austria, with Indonesia allowing 17-year-olds to vote.
Labor MP Andrew Giles, the committee's deputy chair, said the party does not support optional voting or 16 and 17-year-olds.
«To treat one cohort of voters different from all others solely by reason of their age is not only incongruous, it is at odds with broad anti-discrimination principles,» Mr Giles said.
«We are not persuaded that the right to vote should be varied when it attaches to younger voters.»
The federal opposition did say «urgent» work is required to improve civic education for school students to have more effective political involvement from young people.
Greens senator Larissa Waters slammed the committee's final report and said evidence had been «cherry picked» to reach its conclusions.
«The conclusions reached in the chair's report do not reflect the majority of the evidence presented,» Ms Waters said.
«There is also a clear theme of failure by political leadership to properly include young people in discussions that affect them.»
Andrew Brown is a journalist at the Sunday Canberra Times. Andrew has worked at the Canberra Times since 2016.