They were scheduled to fly back to Japan on Sunday after a week immersing themselves in Australian culture.
The two boys were reported missing from their school group near Lake McKenzie just after 5pm on Friday.
It is believed they were first noticed missing when the students gathered for a group photo.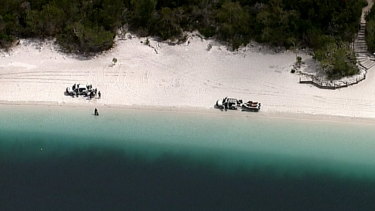 The principal of the school where the boys attended at Yokohama, about 40 kilometres south-west of Tokyo, spoke to local media after the deaths.
«The two students were very bright and energetic. I think everyone liked them very much,» Kanagawa University High School principal Kikuchi Hisashi told reporters in Japan.
Mr Hisashi also released a statement on the school's website, saying police, hotel staff and rangers launched a search for the boys on Saturday evening.
«Without being able to find them, and it becoming more difficult because it was getting darker, they called off the search,» the statement read.
"I am very sorry that such an accident happened in the overseas exchange program.
«In the future, this program will be thoroughly reviewed to prevent recurrence.»
Jeff Ellison from Sealink, which owns the Kingfisher Bay Resort at Fraser Island where the students were staying, said a search party had gone out as soon as the boys did not return to the tour bus.
«It was a tragic accident and a terrible situation. Our thoughts and prayers go out to the family and friends of the boys,» he said.
Inspector Tony Clowes of the Maryborough Patrol Group said at this stage they did not believe the boys died under suspicious circumstances and could not say whether the school friends knew how to swim.
"This is a tragic event, there is no doubt about that," he said.
"Certainly it would be confronting for all persons, including emergency services that responded.»
Inspector Clowes reminded swimmer to "know their abilities".
"We are in a nation surrounded by water. Be aware that if you are entering water, there is some inherent risk with entering waterways in this country," he said.
"I certainly haven't heard of an incident like this occurring in my history since I have been here."
Police will prepare a report for the Coroner.
Lydia Lynch is a reporter for the Brisbane Times