«I wasn't expecting another 40,000.
«It's a very special moment for the AFLW and for footy in Australia.
«This might be one of the most significant moments in Australian football history.»
After starting well, the Blues were completely overwhelmed after quarter-time by the Crows, who Harford magnanimously described as a «joy to watch».
«If you're a football purist, just a neutral observer or even a Carlton supporter, you would have watched the Crows play today and gone 'bloody hell, this is a serious footy team',» he said.
«It was a joy to watch the way they played, to be honest.»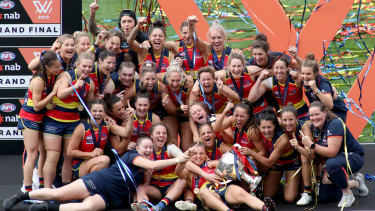 Wooden spooners in 2018 and languishing at the bottom of the weaker Conference B two weeks into this season, the Blues looked like also-rans again before making their fairytale charge to the decider.
«I'm enormously proud of this entire group,» Harford said.
«People thought we were no good; people thought we couldn't (compete).
«We're really disappointed at the outcome but absolutely hold our heads high at what we were able to build in the last nine weeks of footy.»
Harford also took a swipe at the competition's knockers, including former Carlton president John Elliott who yesterday dismissed the AFLW as «pathetic».
«I can't for the life of me work out why there's people out there who think this is a bad thing or not something to enjoy and be a part of,» Harford said.
«I just can't get my head around that.
«Why you wouldn't enjoy the opportunity for half the population that hadn't previously been able to, to be a part of this … how that could be a bad thing is beyond me.»
Harford expressed genuine sadness for Crows superstar and best-afield Erin Phillips, who was stretchered off the ground in the third quarter after tearing the anterior cruciate ligament in her left knee.
«I was really sad for Erin,» Harford said. «She's an icon of Australian Rules football, full stop.
«The way the crowd responded when she won the medal was a lovely moment for footy.
«She's an iconic player, an amazing player.»
Adelaide coach Matthew Clarke described the mood in the Crows' rooms as «mixed» as a result of the knee injuries suffered by Phillips and young forward Chloe Scheer, who is suspected to have also damaged her ACL.
He is confident Phillips' injury isn't career ending despite the fact the two-time grand final best-on-ground winner turns 34 in May.
Loading
«Clearly so proud of the group,» Clarke said.
«But to have two players go down with what both look like ACLs is pretty heartbreaking.
«Chloe's young and with Erin, if anyone will come back from it, it's her.
«We want to celebrate it and not dwell too much on that … it's a little bit of mixed feelings.»