The iconic North Sydney art deco gem, built in 1936, site of two Empire games and 86 world record-breaking swims, is but the latest in a long line under a cloud.
Cutting the council coffers that maintain a local pool cuts to the core of what it is be Australian. We, the nation that created the Australian crawl, have built ourselves an international reputation for swimming, much of it forged from laps in these suburban swimming sanctuaries.
What would the Cavill clan, our first family of swimming, say? They taught generations of Sydneysiders to swim the crawl, the modern adaptation of freestyle, in our harbour baths. Would we let their legacy fade like a pair of old cossies?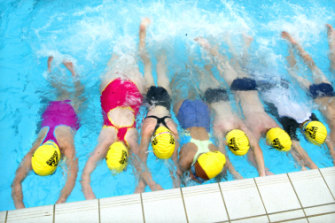 You don't need to take a ratepayer-funded study tour, as North Sydney councillors did, to Melbourne – home to a swimming complex named for a drowned PM, the Harold Holt Swim Centre – to understand that pools are more than just places to ply in chlorinated solitary confinement. They are meeting spots – social centres – as much as town squares or shopping malls. Just ask Olympian swimmer Shane Gould, who is doing a doctorate on the place the pool plays in the social conscience of Australians.
It was here, at this saltwater jewel of a pool in North Sydney, where Sydneysiders lined up on the Harbour Bridge to watch Gould break the world 100-metre freestyle record in 1972.
Our pools are too precious to entrust to the variable support of politicians, local, state or federal. Or perhaps it's time for the Pool Party.
Loading