Opener Light My Dart Up wasn't one of them. With its meandering piano and vocal like Corby's just woken up, it's not a compelling start to Rainbow Valley or this night, at least in comparison to what came next.
Ordinary Life might be Corby's masterpiece. A searching, psychedelic hymn that perfectly married a hip-hop rhythm to a melancholy synthesised string section, it was sent skyward by Corby leading harmonies with his two backing singers that The Beach Boys would be happy to claim.
Corby plays most of the instruments on his studio tracks himself, so the dynamics of an eight-piece band transformed their intricate arrangements on this night, even if its leader still rotated between drums, guitar, keyboard and – briefly, on Empires Attraction – flute.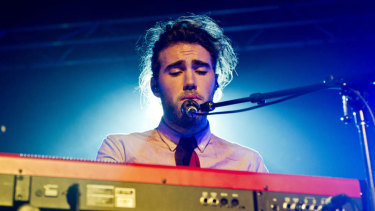 Elements stretched epically to contrast the intimate exchange of its lyrics. Better's clavinet groove and Get With The Times funkadelic lick hinted at the influence of 1970s soul, which Roy Ayers' Everybody Loves The Sunshine as this night's choice of cover later confirmed.
The stop-start chorus of breakthrough hit Brother was thrilling as ever, while Souls A'Fire's over-driven guitar and declamatory vocal was a blast of traditional Hordern-filling fare.
Corby sang beautifully over it all – power, range, clarity, and restraint with melisma not always found in an Australian Idol alumni.
There's also a contemporary Christian band in Corby's past, and that training shone on two of this night's emotional highlights – the gorgeous All Fired Up, stripped back to little more than piano, and the breathtaking Monday, which summoned all the spiritual power of the church's music in order to reject its dogma.
However, the opener wasn't the only time this show devolved into a dirge. Secular hymns are a specialty for Corby, and they aren't all as memorable as the aforementioned.
But there could be no argument about closer Miracle Love, which snapped the crowd out of its spell for this night's one singalong, and delivered the spiritual, heartfelt joy for which Corby at his best should be treasured.