»I want to be as consistent as I can be,» said Arnold.
»This last tour is the last chance to prove ourselves for the World Cup. Its particularly important to prove our potential (for the upcoming tournament).»
Defender Gema Simon is determined to make the most of her chance to play alongside her cousin Kyah, a higher-profile international striker.
While Denver, the venue for the game, is at altitude, she says the initial experience of being at a high level has not been too problematic.
She said Milicic had told the early arrivals to the camp that they had to be focussed on the job in hand from the moment they get to the US.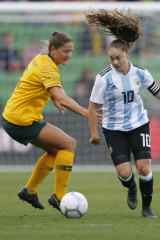 »He didn't go through too much. (He told the players) not to waste a session, make sure you are switched on every time.»
Simon said the USA were an enormous challenge but perfect preparation for the World Cup.
»It will be awesome … they have quality players all over the park. But we are going to have to beat the best teams to win the World Cup, and it will be good to test ourselves.»
Experienced defender Laura Alleway, who was part of Melbourne Victory's Premiership Plate winning W-League side this season, says she couldn't wait to take on the defending World Champions.
"I love playing against America," Alleway said in an interview on the Matildas web site.
"There's a lot of familiar faces for a lot of the girls as a lot of people play in America now and it's just a massive rivalry.
"When you're number one, you're the team to beat so everyone loves playing against them and it's no different with the Matildas.
"We don't shy away from a tough challenge, if anything we'll rise to the occasion.»
She says extra time in camp will be vital as the players adjust to the way Milicic wants them to play.
For years they were used to the approach of his predecessor, Alen Stajcic.
Loading
Under Milicic the Matildas won all three games in the recent Cup of Nations, but the USA are a completely different degree of difficulty compared to New Zealand, South Korea and Argentina.
"I think we made massive strides in terms of our positivity and our on-ball performances and I think that we just want to grow from there, keep on aiming higher to possess the ball and get as many passes as we can each match," she said.
"We're really focusing on ourselves and I really like that about Ante's style and I think it's going to be no different going into the U.S. game.
"I imagine it will be a lot of the same that we covered in Australia so a lot of on-ball stuff, technical stuff, getting our tactics right.
"The training sessions were so good when we were in Australia, the intensity was really high and I think Ante wants to keep driving that higher and higher to get us as fit as we can be."
Michael Lynch is The Age's chief soccer reporter and also reports on motor sport and horseracing