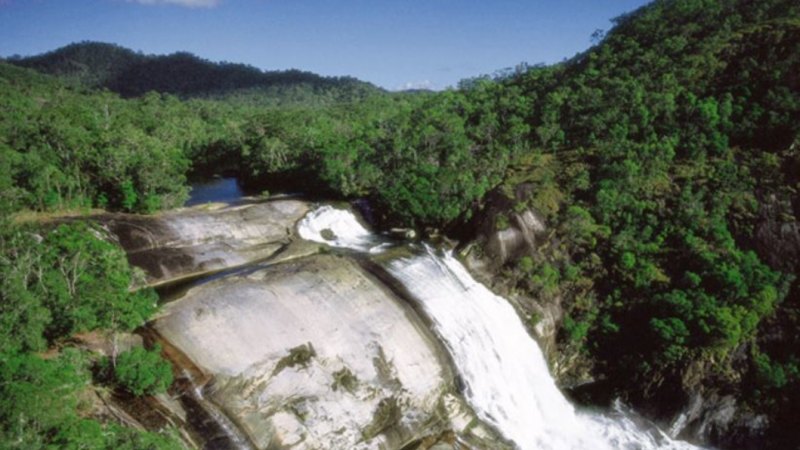 While the couple stood on a rock in the middle of the stream at the very top of the falls, Mr McManus's dog lost his footing.
«In his efforts to reach for the dog he slipped and fell over the edge of the falls,» coroner Nerida Wilson found.
«Ms D climbed to the bottom of the falls and saw Mr McManus floating face up. He was
not moving so she jumped in the water and grabbed him and held him and saw that
he was not responsive.
«She could see blood coming from his head, ear and mouth. He was not breathing. She attempted CPR and could feel that his ribs were broken.»
Ms D had no phone reception and could not call Triple 0 from the remote falls in the Daintree Rainforest, which can only be accessed off the 71-kilometre Creb Track by four-wheel-drive.
She moved her fiance's body to the edge of the water so he could not float away and began looking for the keys to Mr McManus' ute, not realising they had been placed on the tyre of the car.
Knowing her fiance was already dead, Ms D embarked on an hour-long hike to a ranger's hut to call for help.
Coroner Wilson offered her condolences to Ms D, who she said was «valiant» in her efforts to seek help.
«And in very difficult and unfamiliar terrain and fading light, managed to locate a satellite phone after hiking for over one hour to raise the alarm, all the while knowing Mr McManus was deceased,» she said.
«The tragic events of that day will no doubt change her life forever.»
It took police at least an hour to navigate their way down the remote track to the falls, arriving by 7:30pm.
Unable to make their way down the dangerous falls in the dark, Mr McManus' body lay at the base of the waterfall until the following day when a rescue helicopter moved him.
Forensic Pathologist Dr Paull Botterill found a «potentially lethal» amount of methylamphetamine and metabolite in Mr McManus' blood, as well as a blood alcohol content of 0.09.
He noted the cause of death as multiple injuries, result from a fall from height, with multiple drug toxicity (methylamphetamine, alcohol) significantly contributing to death.
While handing over her findings, the coroner raised concerns over the inadequacy of warning signs at the falls and lack of signage alerting visitors to the culturally sensitive nature of the area.
Also concerned a lack of mobile phone service and access to emergency phones, the coroner forwarded her findings onto all levels of government.
Lydia Lynch is a reporter for the Brisbane Times