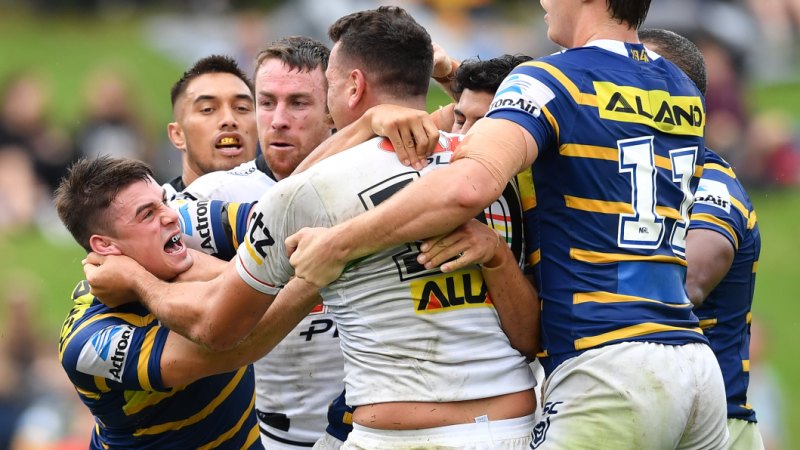 «Everyone knows who he is back home. He's got such a good reputation. Him and Moses Mbye played for the Noosa Pirates.
«He's been a great leader for the Roosters and we need to try and control him this weekend.»
Loading
Friend missed last weekend's win over Manly with a shoulder injury but will be front and centre against the undefeated Eels at ANZ Stadium on Friday night.
Mahoney, 20, has played less than a dozen games while 29-year-old Friend is closing in on 250 NRL games and already won two premierships.
Like Friend, Mahoney refuses to take a backward step when roughed up by the big men in the middle.
Mahoney picked Penrith giant Reagan Campbell-Gillard in the opening round.
«I wear my heart on my sleeve. That tackle was unnecessary and it got on my nerves a bit,» Mahoney said of the Campbell-Gillard hit.
«I didn't need to react like that. But I won't let anyone stand over me.»
Loading
When the Eels lost hooker Kaysa Pritchard indefinitely, they held talks with Issac Luke before signing Matt McIlwrick.
Mahoney said there was no need for him to develop a complex, and coach Brad Arthur had kept him in the loop.
«Brad wanted me to get more physical, and I was in the gym once or twice a day every day over the pre-season,» Mahoney said.
«I had to build up that physicality. I've added a bit of size and strength.
«On the field I also needed to be more consistent with my skills.
«When Kaysa wasn't going to be around for a while, I was the only hooker and I knew the club needed another one. Whoever was coming in was going to help me and the team.»
Mahoney made headlines after the shock season-opening win over Penrith when he pulled over on the M4 Motorway to assist a driver who had crashed his car.
«I only helped him out. I thought I could give a hand, he was unconscious. My old girl should get the credit. She saw the article the next day and she was like, 'You didn't even do anything',» Mahoney said.
Christian covers rugby league for The Sydney Morning Herald.