Seattle: Two people in Seattle were killed and two others critically injured when a gunman opened fire on two motorists and a Metro bus, then caused a collision as he tried to flee in a stolen car during the afternoon rush hour, police said.
The incident unfolded in a northeastern Seattle neighbourhood when the suspect approached a motorist at an intersection and shot her before walking into the street and firing on the bus, police said in a statement.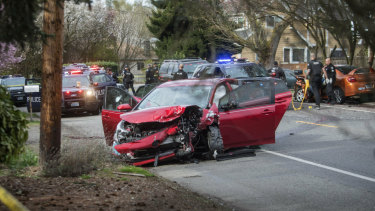 The bus driver was struck but managed to turn the bus around and head away from the assailant, police said. The suspect then approached a second motorist, in a Toyota Prius, and opened fire, killing the car's driver.
As police arrived, the gunman climbed into the Prius and sped away but collided with a nearby vehicle, killing that driver. Officers pursuing the suspect took him into custody following a brief standoff, police said.