Little Bourke Street has high banked walls and no one saw the attack.
But police believe the murderer sprang on to his victim from the shadows of a doorway and stabbed him repeatedly about the next with a sharp knife.
The man crumpled up and died in the gutter.
A woman heard the dying man fall against the wooden gate at the back of her home.
The lane is frequented by drunks and she thought one of them had staggered against the gate on his way home.
The murderer undressed his victim after the murder and slashed off some of his body.
A man walking home found the body around 11.30 p.m.
It had been pushed into the gutter against the kerb.
The man was about to walk past when he noticed blood still flowing down the gutter and saw that the man's clothing was disarranged.
Detective-Sergeant J. Cooper and other members of the Eastern Wireless Patrol cordoned off the area.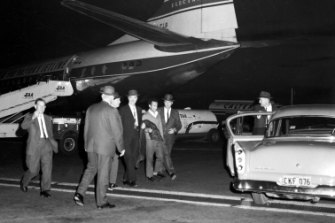 They searched backyards for pieces hacked off the murdered man while members of the C.I.B. scientific branch made a thorough investigation of the area.
The murder took place only 200 yards from Darlinghurst police station.
Both previous mutilations «mutilation murders» were in the same police division.
One June 4 last year, the body of Albert Greenfield, 41, was found stabbed and mutilated under the Domain Baths building.
Parts of his body were found floating in Woolloomooloo Bay.
On November 21 the body of Ernest William Cobbin, 37, was found in a public lavatory in Moore Park, also stabbed and mutilated.
Detectives could not find any recorded crimes in Australia similar to the two cases.
They have feared for some time that the killer would strike again.
Detective-Sergeant E. Freeman took charge of inquiries this morning.
William MacDonald was arrested while working as a porter at Melbourne's Spencer Street railway station on May 13, 1963. He was was convicted of murder and sentenced to five consecutive life sentences. He died in 2015 in Long Bay Correctional Complex, aged 90.