For 10 regions, such as Lismore and Tenterfield, this year's fire season will last at least nine months as those areas all began their period of fire restrictions a month early last August.
The curbs require private landholders to gain a permit from the RFS or Fire & Rescue before burning off.
Areas around Sydney have benefited from bursts of rain, especially from thunderstorms, effectively dousing the risk of major fires this season.
The city's rains on Saturday will push the rainfall total for March to about 230 millimetres, almost double the long-run average for the month of about 130 millimetres, and the most for any month since March 2017.
A chart of the so-called Keetch-Byram drought index, though, shows most of the state still has a soil moisture deficit, a proxy used by fire authorities to assess vulnerabilities to wildfires.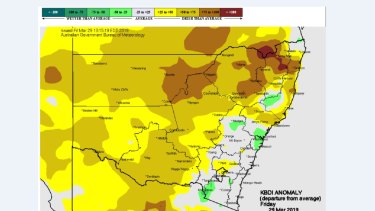 Aside from this weekend's rains, the outlook for April-June is for near-average rainfall for NSW — except for a coastal band around Sydney, the Bureau of Meteorology said this week. But odds favour a warmer-than-average period for the almost all of the country, including NSW.
The extended fire season comes after crews battled some 10,525 bush, grass and scrub fires from July 1 last year up to Friday, covering about 323,000 hectares.
In numbers of blazes alone, the busiest month was last August, with 2314 fires across the state.
For all of the 2017-18 fiscal year, the RFS reported 15,641 fires.
The long fire season has also extended to other states, with Victorian crews battling fires on Friday.
NSW has helped out other states — and been aided too — with RFS deploying a total of 682 members to Tasmania to help fight blazes that burnt out more than 200,000 hectares across the island state.
The Tasmanian work lasted about 11 weeks up to last Monday and was «the most sustained support given to another state since the tragic Black Saturday Victorian bush fires of 2009», said RFS Commissioner Shane Fitzsimmons.
Loading
"I acknowledge the exceptional commitment of the 221 volunteer NSW RFS firefighters who have worked in some of the most difficult and rugged terrain in the country.»
Fire crews will get little respite, as authorities prepare to accelerate hazard-reduction burns in NSW as soon as conditions allow.
«We're going to try to play catch-up ahead of the next fire season,» Inspector Shepherd said.
Peter Hannam writes on environment issues for The Sydney Morning Herald and The Age.
Most Viewed in Environment
Loading