A dozen firefighting crews were on the scene of a massive industrial blaze in Sydney's northern beaches on Thursday morning, with crews battling through pitch black conditions in the early hours in an attempt to extinguish it.
Just after 1am on Thursday, fire services were called to reports of a building fire at Cross St in Brookvale. Four trucks arrived initially, with more being called as the enormity of the fire was fully realised.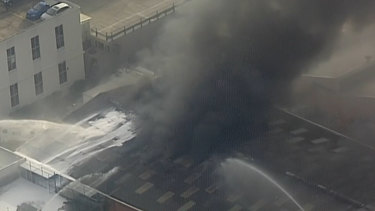 «The fire is in a self-storage facility, with hundreds of storage units inside — and it spread from unit to unit,» a Fire and Rescue NSW spokesman said.
Firefighters initially went inside the building and put out fires one at a time at each individual storage unit before the blaze eventually took hold and went through the roof, forcing crews to retreat outside at 6am.