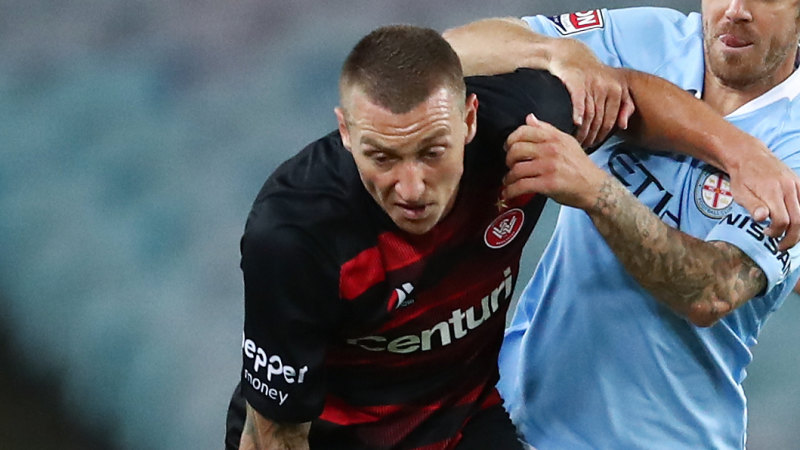 What's more, their new training facility is nearly complete and their new home ground, Bankwest Stadium, will be opened to the public for the first time on April 14. A poor crowd of just 7078 watched the City game at ANZ Stadium, but the expectation is that attendances — and the general vibe around the club — will lift significantly in the new digs.
All up, it's an exciting time to be in red and black, and Duke described Saturday night's result as «massive» for a club which appears to be slowly rediscovering its mojo.
«We're just playing for a bit of pride, to be honest,» Duke said. «The first half of the season was a bit tough but the last few games, we've done really well. We'll just keep focusing on ourselves and that's all we can do.»
It could get even better for the Wanderers, with a top six berth not out of the realms of possibility. Currently in eighth spot on the ladder, they face Newcastle Jets away next Saturday night. Western Sydney can draw level on points with the seventh-placed Jets if they win. Adelaide United, who sit sixth, appear to be in freefall, but Duke said they weren't concerning themselves with finals calculations.
«That's not on our minds at all,» Duke said. «We just want to finish the season strong. It'll take a lot of results that are out of our hands — for other teams to lose, drop points and we have to win all the games remaining. We'll just go game by game and see where it takes us.»
Loading
Duke said he would be fine to play against the Jets despite coming off with 15 minutes to go against City for precautionary reasons. The 28-year-old said he hurt his hip flexor trying to clear a ball and took himself off but felt better almost straight away and regretted leaving the game when he did.
Surprisingly, his hip flexor came away unscathed from his audacious goal celebration — Duke did the splits next to the corner flag after putting away a ball from Raul Llorente in the 53rd minute.
«I do it all the time at training,» he said. «That's why all the boys egged it on a bit. I think I just got a bit more flexible when I was in Japan the last four years. I just thought, why not? If I score and we're winning, I'll do the celebration.»