The boy was taken to Liverpool Hospital as a precaution, but luckily only suffered minor cuts. The woman who was driving the Mazda was uninjured.
Traffic and Highway Patrol Command Assistant Commissioner Michael Corboy said the boy was lucky the driver was travelling within the road's speed limit.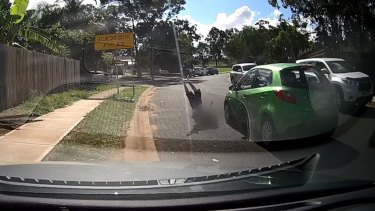 «This young boy is lucky to be alive, and if vision like this isn't enough to encourage people to slow down and drive safely, I don't know what is,» he said.
«It's a timely reminder to all drivers and pedestrians to take extra care on our roads. There should be no unnecessary distractions when getting behind the wheel or crossing the road.»
The Assistant Commissioner also urged parents to talk to their children about road safety.
«Remind them to look in both directions before leaving the curb and always use available pedestrian crossings and lights,» he said.
«We want to make sure there are no more fatalities on the roads, and that responsibility begins with you [the community].»