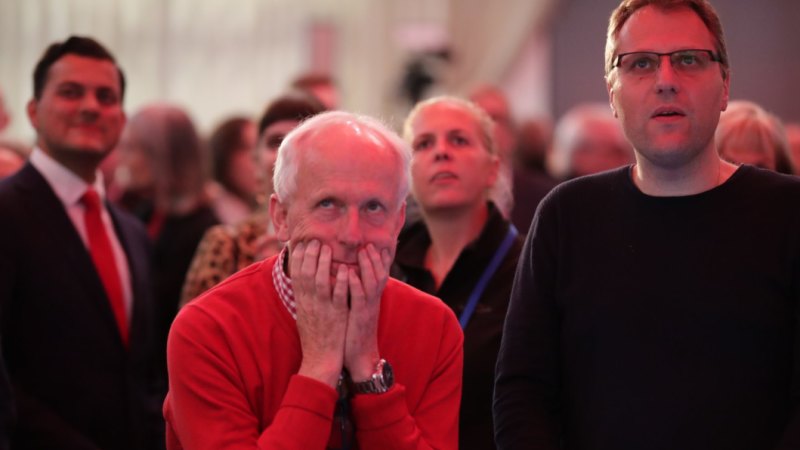 No matter. Labor was about to win power.
That was then. There were a couple of bunches of cheery red balloons, but it wasn't long before they were the only unambiguously merry elements of the large hall with its crowd gathered beneath two giant screens bringing the results from around the nation.
The first cheer came at 7.45pm when the screens and Antony Green brought the prediction that Tony Abbott, barring a late turnaround, would lose his seat of Warringah.
Soon enough, however, it seemed clear things weren't quite going the way Labor had hoped. The National Liberal Party in Queensland, for pity's sake, was either gaining seats or losing none and Labor was falling short all over the place.
"There are some very strange results coming through tonight," came an ominous voice from the ABC panel.
"If Queensland's not moving and Victoria's not going as well as expected, it's going to be a long night," said Barrie Cassidy, just before 8pm.
Uh oh.
"We're not seeing Labor waltz into office as some people expected," added Green, helpfully.
The bar started working overtime, $9 beers notwithstanding.
There was no sign of Shorten, and given the tradition holds that victorious leaders appear only when they can claim victory, it looked as if there would be no appearance any time soon, and maybe not on Saturday night at all.
Worse, it began to dawn on some, the alternative was to wait for another leader – good lord, don't say it, Scott Morrison! – to celebrate victory before conceding. Unthinkable to this crowd, of course. They would hold the faith.
Why, West Australian votes hadn't even been counted. And there were all those millions of pre-polls to be counted, and 1.3 million postal votes. Hope rippled around.
But there was Green talking about the swing in Queensland being "very bad" for Labor, and Sussan Ley holding Farrer handsomely, though she had been thought to be in trouble, and big doubt over Rob Oakeshott returning as an independent and, really, no good news anywhere.
Only hours before, Shorten had actually declared himself "confident", and disported himself happily through the streets in a clever T-shirt.
"Vote 1," shouted the T-shirt. "Chloe Shorten's husband."
Tony Wright is the associate editor and special writer for The Age and The Sydney Morning Herald.