Pact group, whose shares have plunged 33 per cent since early Februray, is among the best performers on the ASX 200 this morning. It is up 3 per cent, at $2.75.
Rich Lister Raphael Geminder has hired an executive from steel group BlueScope to begin the painstaking task of rebuilding confidence in the ailing packaging firm.
Sanjay Dayal is currently the chief executive of building products, corporate strategy and innovation at BlueScope, where he has worked for nine years after a decade-long stint at explosives and chemicals group Orica.
Mr Geminder will revert to being chairman of Pact on April 3 when Mr Dayal takes over.
Mr Geminder, who holds a 39 per cent stake in Pact, took over the day-to-day running of the business last year when former chief executive Malcolm Bundey abruptly departed as the financial performance deteriorated.
Australian shares slipped at the open, weighed down at a sector level by information technology companies and energy firms.
The S&P/ASX 200 index declined 4 points, or 0.1 per cent, to 6132.
The small losses for the Australian index came after a weaker session on Wall Street where investors remain anxious over weaker prospects for the slowing global economy and falling bond yields.
Speedcast, down 3.8 per cent, and Adelaide Brighton, down 2.7 per cent, were among notable individual stock decliners on Thursday, while Pact Group and Costa Group each rose 3 per cent.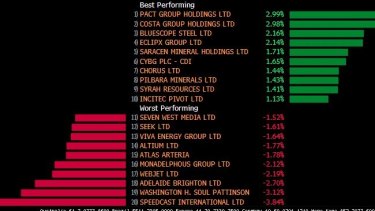 Investors dumped Turkish bonds and stocks on Wednesday after the nation orchestrated a currency crunch to prevent the lira from sliding days before an election that will test support for President Recep Tayyip Erdogan's rule.
The cost of borrowing liras overnight on the offshore swap market soared past 1,000 percent at one point on Wednesday because local banks are under pressure not to provide liquidity to foreign fund managers who want to bet against the lira. A government official said the measures are temporary.
This has forced investors who want out of their lira positions to instead sell other Turkish assets to get the cash they need to close those trades. The yield two-year on Turkish bonds jumped above 20 percent and stocks slid the most since July. Fund managers including Japan's Daiwa SB Investments Ltd. said they are rethinking investments in the country.
«I've never seen a move like this in the 21 years I've been watching this market,» said Julian Rimmer, a trader at Investec Bank Plc in London. «This amounts to sacrificing long-term pragmatism for a short-term political expedient. Such tactics will make many traders question the investability of the lira.»
By engineering a situation whereby investors can't move out of liras easily, Turkish authorities have averted a currency slide before a March 31 vote that'll determine who governs Turkey's cities.
That's good for Erdogan, who's already contending with a recession, soaring inflation and opposition parties trying to undermine him. But it comes at the cost inflicting pain on the investors Turkey needs to roll over $177 billion of foreign-currency debt coming due within the next 12 months.
Turkey's main stock index fell 5.7 per cent, almost erasing all of its 2019 gains. The yield on two-year bonds climbed 47 basis points to 20.45 per cent and the cost of insuring Turkish debt against default jumped.
— Bloomberg
Elsewhere in Europe, German 10-year yields dropped as much as seven basis points to -0.089 per cent, having slid below zero percent last week. Market watchers have raised the spectre of «Japanification,» where inflation, growth and yields remain permanently low.
«The bund curve is becoming 'Japanified' as the market prices out the chance of future ECB hikes,» said Chris Attfield, a fixed-income strategist at HSBC Holdings. «There's a long way to go before we're as flat as JGBs, so we think there's still value if the ECB fails to lift off.»
Full article here: https://www.afr.com/markets/market-data/bonds/warning-signals-from-german-bond-market-20190328-p518b3
SPONSORED POST
Markets continue to see-saw, with Wall Street slipping to set up a mixed start for the ASX, according to IG Markets' Kyle Rodda.
The one-day-up, one-day-down pattern of trade on Wall Street continues.
The same simple binary that's driven market activity for weeks is behind this dynamic: a competition between fears regarding the slowing global growth outlook, and the appeal of risk taking in a financial market environment plagued by tumbling yields.
The pattern is showing few signs of abating and speaks of a market that is consolidating before a clearer-cut direction is formed.
Wall Street's lead is manifesting as a mixed-picture for Asian markets today, according to futures. Provided this materialises, it will be an extension of the region's equities own theme.
As it presently trades, SPI Futures are suggesting that the ASX200 will open slightly lower this morning, if not flat; as will the Hang Seng and Nikkei; but the CSI300 ought to open a touch higher – though this is based on a future's price that reflects price action from yesterday evening's trade.
Despite the sound and fury coming out of London overnight, US-based OppenheimerFunds manager Alessio de Longis says the impact of Brexit on global markets will be reasonably limited:
«A day after the referendum, Brexit was seen as a global event, then a few months into it, it became a European event, and now it's really a local event».
«Ultimately, unless you are a day-to-day trader, for medium to long-term investors all that matters with politics, headlines and all these other developments, is really — 'What does that do to fundamentals? What is that doing to growth and other macro variables?»'
As this article notes, this is in contrast to 2016 — when when the Brexit referendum was a seismic shift for markets around the world, with the pound sliding by the most on record to a 30-year low.
All the overnight markets action:
SPI futures down 3 points to 6110 at 5.50am AEDT
AUD -0.8% to 70.81 US cents at 5.04am AEDT
On Wall St at 2.50pm: Dow -0.1% S&P 500 -0.4% Nasdaq -0.7%
In New York, BHP +0.8% Rio +0.05% Atlassian -4.4%
In Europe: Stoxx 50 +0.1% FTSE flat CAC -0.1% DAX flat
Spot gold -0.4% to $US1310.35 an ounce
Brent crude -0.4% to $US67.72 a barrel
US oil to -0.5% to $US59.63 a barrel
Iron ore -0.1% to $US85.11 a tonne
Dalian iron ore -0.2% to 612.50 yuan
LME aluminium +1.3% at $US1911 a tonne
LME copper flat to $US6335 a tonne
2-year yield: US 2.19% Australia 1.47%
5-year yield: US 2.14% Australia 1.43%
10-year yield: US 2.36% Australia 1.77% Germany -0.09%
US-Australia 10-year yield gap: 59 basis points
On the economic agenda today:
Eurozone M3 money supply February, economic confidence March, business climate indicator March and consumer confidence March; US GDP Q4 data; US pending home sales February; Kansas City Fed index March.
Good morning and welcome to today's Markets Live blog.
Your editor today is Bo Seo ([email protected]).
This blog is not intended as financial advice.