Platinum Asset Management has continued its week-long slide, trading down 3 per cent at $4.60 per share.
The fund manager has been under scrutiny after its billionaire founder Kerr Neilson and philanthropist ex-wife Judith Neilson sold a $300 million stake in the business.
The Neilsons sold their stake at $5 a share, a 9 per cent discount to its then previous closing price of $5.50.
Full story here.
A modest rally in the early afternoon saw the ASX recoup its losses from the morning.
The biggest winner remains Pilbara Minerals. Flight Centre and G8 Education are just behind, each posting gains of more than 2.5 per cent.
Eclipx has regained some of its losses, and is now down 2.14 per cent. Seven West Media and Platinum Asset Management are now posting the biggest losses, respectively falling 4 per cent and 3 percent.
The market has returned to the level at which it opened.
Despite the quiet day on the ASX 200, concerns about the global economic backdrop linger, with Ambrose Evans-Pritchard seeing warning signs all over.
Korean semiconductor shipments fell 25 per cent year-on-year in February; US yield curve has inverted, and the 10-year German bund yield has crashed below zero.
Can Chinese fiscal stimulus, or the US Federal Reserve's dovish turn, save the day?
Full article here
The number of job vacancies in Australia increased by 1.1 per cent in trend terms over the February 2019 quarter, according to the Australian Bureau of Statistics.
The seasonally adjusted number of job vacancies increased by 1.4 per cent over the February 2019 quarter, down from a 5.2 per cent gain recorded in the same quarter a year ago. On a trend basis, job vacancies rose 1.1 per cent in the February quarter.
The data for February was «consistent with the recent slowing in other economic indicators,» said ABS chief economist Bruce Hockman.
On an annual basis, job vacancies increased by 9.2 per cent, with private sector vacancies increasing by 9.2 per cent and public sector vacancies by 9.4 per cent.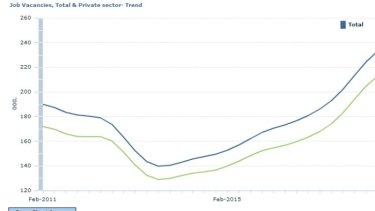 Australian shares are deeper into the red at lunchtime, as losses for banks offset some notable gains in the mining sector.
The S&P/ASX 200 index lost 16 points, or 0.3 per cent, to 6119, with 76 stocks up, 122 down and 2 unchanged.
Banks were among the worst performers, with Commonwealth Bank down 0.7 per cent, Westpac down 0.8 per cent, ANZ down 0.9 per cent and NAB lower by 0.3 per cent.
Coles Group fell 2.3 per cent and Aristocrat Leisure dropped 2 per cent.
Miners were stronger, however, with South32 up 1.6 per cent, Rio Tinto up 0.9 per cent and BHP up 0.2 per cent. Pilbara Minerals climbed 4.6 per cent and Afterpay Touch rose 2.2 per cent.
The woes of vehicle fleet management group Eclipx continues, with shares falling 3.6 per cent to $0.68.
The company announced that it would scrap any interim dividend payout and that it would apply proceeds from the sale of the Grays and Right2Drive towards cutting its debt.
An update to the market on Wednesday saying that the financiers to Eclipx's corporate debt facility continued to be supportive of the company had seen its shares rise 23 per cent to $0.70.
Shares in the company hit a record low of $0.57 on Tuesday, after trading as high as $2.66 in January.
Stocks in lithium and tantalum producer Pilbara Minerals are steadily rising, trading up 3.6 per cent at $0.73.
The company announced this morning that it had achieved commercial output at its Pilgangoora mine in Western Australia.
Pilbara chief executive Ken Brinsden said «the declaration of commercial production is based on the achievement of consistent, steady-state plant throughput and production of quality spodumene concentrate, with regular shipments to our customer base».
He separately announced that the company is seeking a partner for uncommitted offtake, as well as a minority stakeholder in its Pilgangoora project. Pilbara's existing down-stream joint venture with Korean steel producer POSCO will be unaffected by the partnering process.
The New Zealand dollar edged higher on Thursday, taking back a small portion of losses made for the currency during the previous day.
The currency traded at US68.06¢, after dropping 1.6 per cent in the previous session when the Reserve Bank of New Zealand said the more likely direction for interest rates will be down.
«Our Auckland‑based ASB colleagues have changed their view on the RBNZ, from no rate rises until Q1 2021, to a new view that the RBNZ will cut interest rates 25 basis points in August 2019 and another 25 basis points in November 2019, lowering the cash rate to 1.25 per cent,» said Commonwealth Bank's Richard Grace.
«The lower OCR will place New Zealand interest rates 25 basis points below Australia's current cash rate of 1.50 per cent. With only a few days left in the March quarter, our end‑March NZD/USD forecast of US68c looks about right.»
Fruit and vegetables company Costa Group is also trading up 2.8 per cent, with shares priced at $5.17.
Goldman Sachs has a buy rating on the stock and rates it at $5.75.
Investors were spooked back in January, when a profit downgrade saw $900 million wiped off its market value.
Chief executive Harry Debney blamed terrible summer sales on a series of one-off events like lower-than-expected berry prices and depressed demand for avocados.
The business listed on the ASX in 2015 at an issue price of $2.25.